Fun fact: natural hair loves moisture.
And winter, with its dry, cold air temperature, can rob your curls and coils from moisture if your natural hair is improperly set and styled.
Contrary to popular belief, you don't have to go out and buy a whole bunch of new natural hair products for the winter season (unless, of course, you want to)!
To truly keep your hair moisturized this winter, it's much more important to refine your routine, rather than spend $$ on extra products you don't even need.
Here are the best natural hair tips for winter to keep your natural hair happy and hydrated this winter season.
Winter Natural Hair Tips for Moisturized Coils
Step 1: Prioritize moisture
To truly beat the winter blues and keep your natural hair breakage-free this winter, keeping your hair moisturized is critical.
Many naturals often conflate moisturized hair with new products. This could not be further from the truth.
The way to truly moisturize natural hair is, according to science:
Keep the hair clean
Only clean hair can adequately accept moisture from products. Dirty hair will never be moisturized because the moisture cannot pass through layers of dirt, product buildup and bacteria. Use a moisturizing shampoo this winter followed by a rich conditioner to smooth down your cuticles.
Apply stylers on wet hair
Water is nature's true moisturizer. Always apply your leave-in products on damp to wet hair.
Applying products on dry hair will only lead to product buildup. Water mobilizes the product and helps with product absorption.
Here's what you should do: on clean, wet hair, first use a leave-in conditioner after you rinse out your conditioner.
Follow this up with your styler – either a gel for wash and go's or a mousse for twistouts/braidouts.
Set your styles
Setting your styles is the ultimate hack for long-lasting moisture. Do not go outside with wet hair in the cold winter hair. This will damage your coils in the long run. To properly set your styles, use ambient heat in the form of hooded hair dryers and blow dryers after you've added your stylers.
Not properly setting your style will result in:
Moisture loss to the environment
Frizzy, undefined styles
More tangles
Product buildup
But wait? Isn't heat bad for our natural hair?
Direct heat, aka heat that is directly applied to the hair, is bad for our coils.
Examples of direct heat include blow dryers and flat irons. These tools apply first-hand heat to our strands, weakening the cuticle layer and causing heat damage with prolonged use.
However, ambient heat, which is heat applied indirectly to our hair, will not harm our hair.
Examples of ambient heat include hooded hair dryers and blow dryers with diffuser attachments.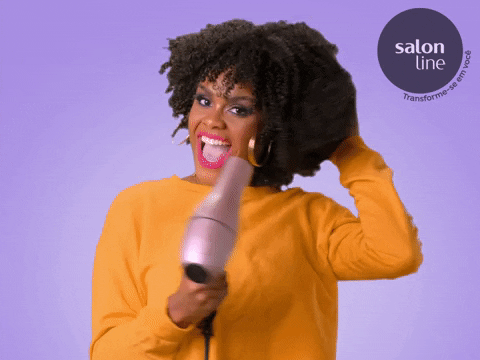 Ambient heat is the best way to set our natural hair.
You do not need to use heat protectant when using ambient heat.
Be sure to use the lowest warm setting to set your styles.
You can choose whether to use a hooded dryer or blow dryer + diffuser attachment.
Hooded dryers work best for short to medium coils for even distribution, while blow dryers + diffusers are naturals with longer hair (where the heat from the hooded dryer cannot reach the ends).
Step 2: Deep condition (the right way)
Deep conditioning is considered sacred in the natural hair world.
Unfortunately, many naturals are not optimizing their deep conditioning sessions for optimal benefits.
Deep conditioning rule #1: there is no need to deep condition overnight.
The penetration window for products is 30 minutes. No products will absorb for a full night. In addition, this will also cause bacterial and fungal overgrowth on your scalp. Yuck!
Instead, deep condition for 20-30 mins with heat to help the product penetrate.
Deep conditioning rule #2: be sure to use a product that tackles your specific issue.
Dealing with breakage from too much heat? Incorporate a protein-based strengthening treatment.
Dealing with dryness? Apply a moisture-rich, less protein-heavy treatment on wet hair. Be sure to follow the instructions on the back of the bottle!
Step 3: Protective Style
Protective styling is a great way to give your hair a break and reduce breakage, as well as keeping moisture where it belongs: in your hair!
Wind, snow and sun all play a role in damaging our hair at a microscopic level. This is especially true in winter.
When you put your hair in a protective style, you're protecting your hair from these harsh elements and keeping the moisture where it belongs: in your hair.
Opt for simple protective styles such as bantu knots, flat twists and plaits. If you want to install braids, opt for knotless braids rather than crochet braids to reduce shedding and hair loss.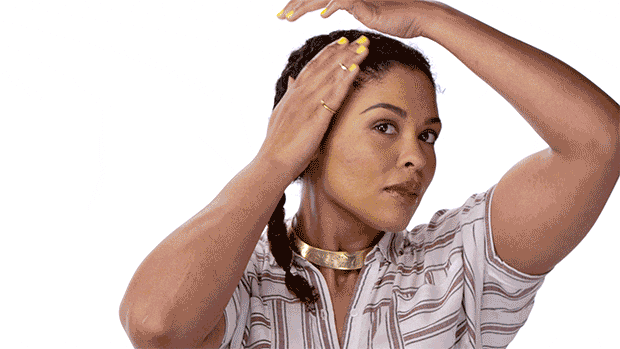 Step 4: Keep up with trims
Trims are a natural's BFF – here me out!
If all else, know this: split ends will always be dry.
There's no reviving dead, split and frayed ends. In fact, split ends can and will split up the hair shaft, damaging your healthy hair.
Keep up with regular trims – depending on your hair care practices, you may need to trim less often. Listen to your hair and examine your ends regularly to see what your hair needs.
Quarterly trims are a good place to start. Partner with a natural hairstylist in your area to see how much you should trim.
Step 4: Lifestyle Matters
Many of us are not optimizing our hair's inherent growth rate because of poor lifestyle habits.
If you are deficient in particular vitamins and minerals (Vitamin B, D, iron, among others), you will experience weak, brittle, and shedding hair.
Key dietary life changes you should make this winter include eating a balanced diet (and taking supplements where you need to), exercising regularly, and drinking more water.
There are a plethora of foods you can eat to optimize your body's hair growth rate. But to start, make sure you are eating a lot of leafy greens and fruits.
Empower yourself with the knowledge of your body – are you lacking in any key essential nutrients?
Many nutrients, such as iron, are primary components of the hair cycle. If you're deficient in these nutrients, you may see it in your hair. Speak with your doctor about getting a blood panel.
Exercise is also major key for growing long, natural hair. Many naturals report that consistent, weekly exercise contributes to consistent growth due to the increased blood circulation to your scalp.
Lastly, stress is a significant factor in the health of our hair. Our mental health isn't discussed enough in the growth conversation. Having healthy, happy hair starts with yourself. Be sure to get adequate sleep and speak with your doctor if you're feeling more overwhelmed than normal.
Final Thoughts On Winter Curly Hair Tips for 2022
Winter natural hair does not need to be a struggle. Prioritize moisture by keeping your hair clean, applying moisture-rich products, setting your styles with ambient heat and deep condition when needed.
Winter curly hair is more than just products, though: solidify a healthy lifestyle this winter by eating clean and exercising consistently.