Achieving the perfect wash and go on natural hair is a highly coveted status in the natural hair community. It's almost like chasing after a unicorn.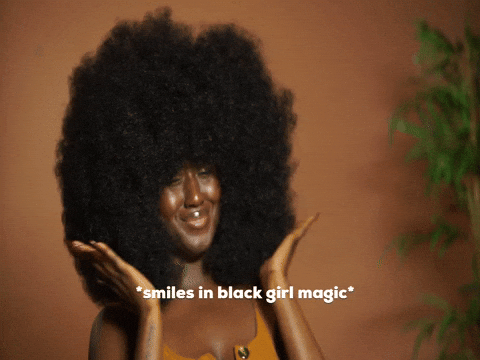 Despite what you may see online, the name "wash and go" is a whole misnomer. The name implies that a natural can just wash their hair and literally "go" out of the house, an act which is fictious at best.
Really, it should be called wash and:
❤ Shampoo
❤ Conditioner
❤ Detangle
❤ Deep condition
❤ Style and apply gel
❤ Wait 7 hours to dry
The reality is that the perfect wash and go on natural hair can be tedious and time-consuming.
But with the below steps, it's 100% achievable and attainable, and if done correctly, can yield beautiful coils that can last for days.

Here's how to get the perfect wash and go on natural hair, literally every time.
What is a Wash and Go?
A wash and go differs from low manipulative styles (i.e. twist outs, braid outs, etc).
Fundamentally, these low manipulative styles coax your hair into retaining a style because it was laid and dried in that style overnight.
With these low manipulative styles, your hair is also encouraged to better absorb the product, thus aiding in the style retention process.
But with a wash and go, you're allowing your natural curl pattern to shine through.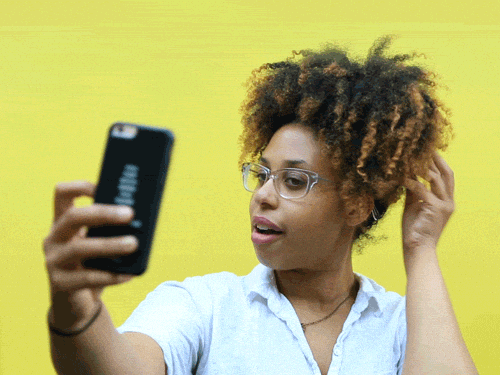 No "manipulation" in the form of twists, braids and bantu-knots are involved in the creation of a wash and go. It's just you and your coils!
Here's how you know you have a good wash and go:
❤ Your coils are defined and moisturized. For a wash and go for 4c hair, your hair will feel buttery and soft to the touch.
❤ No flakes! Flakes occur when you have an overabundance of product (called product buildup, which we'll talk about shortly)
❤ Lasts more than at least 3 days
❤Minimal breakage/single-strand knots
Now that we know what the perfect wash and go on natural hair looks like, let's get into how to actually attain it.
But before we do, it's important to know one critical thing. Your porosity.
Natural hair porosity is the ability of your hair to absorb water and/products.
Low porosity natural hair has a low absorption rate, because the cuticles are stubbornly closed. It is difficult for this hair porosity to absorb moisture.
High porosity natural hair has a high absorption rate, because the cuticles are always open. It is difficult for this hair porosity to retain moisture.
Knowing your porosity is important for one key fact: it will dictate how you apply your products.
Generally speaking: if you have low porosity natural hair, you want to use light-weight, highly penetrable products that will deeply penetrate into your hair, followed up with non-flaking gel.
If you have high porosity natural hair: apply your products on wet hair to increase moisture retention.
Now let's get into the specifics, including the best products for wash and go.
How To Get The Perfect Wash and Go for Natural Hair
Start on Clean Hair
For a long lasting wash and go, you want to start on a blank canvas. The cleaner your natural hair, the better your wash and go will turn out.
Product buildup, which is an overaccumulation of product on your hair, is not only drying for your coils, but it will prevent a style from succeeding/staying put.
This is especially true for low porosity hair, where the cuticles are so tightly shut, moisture and products tend to sit atop the hair.
Not all shampoos are made the same. Opt for moisturizing, gentle shampoos on a weekly basis with a monthly detox, using a clarifying shampoo (or clay mask). This will help your wash and go's in the long-run!
Camille Rose Naturals Sweet Ginger Cleansing Rinse
Best for TYPE 4, high porosity
This shampoo is incredibly gentle and non-stripping, but contains enough surfactants to thoroughly cleanse your hair and remove buildup. Ginger root oil – the second ingredient in the formula – is antiseptic, boosting overall scalp health. A great, gentle shampoo for weekly use, especially for high porosity hair.
Mielle Pomegranate & Honey Shampoo
Best for TYPE 4, all porosities
This shampoo is one of the most moisturizing shampoos on the market. Key ingredients such as honey and panthenol reduce friction between hair strands, providing additional slip for detangling and does not overly strip the hair once rinsed. A must try for Type 4 naturals!
Tresemme 2 and 1 Cleansing & Replenish Shampoo
Best for TYPE 4, low porosity
This shampoo is a triple threat: it contains deep cleansing and detoxifying detergents that will remove accumulated buildup; remove mineral buildup from hard water, and; includes conditioning agents to avoid stripping the hair. Best as a monthly shampoo to detoxify the scalp and reset the hair, and is a great shampoo for low porosity hair that is prone to accelerated product buildup.
Always Deep Condition
Always follow up your shampoos with a moisturizing deep conditioner that contain conditioning and hydrating ingredients that will moisturize your hair from the inside out.
Deep conditioning will also help smooth down the cuticle, reducing frizz for a bomb wash and go. Just remember to wash it out with cold water, as hot water causes frizz and can ruin your style!
Using heat will help the product penetrate deeper into your hair by loosening up your cuticle layer. This is especially helpful for low porosity hair.
If you don't have a steamer, apply the deep conditioner in the shower, and allow it to sit for 10-15 minutes while you enjoy your shower.
TGIN Miracle Repairx Deep Hydrating Hair Masque
This mask is loaded with a healthy balance of strengthening and conditioning ingredients that will soften your coils and keep dryness at bay. A great deep conditioner for boosting moisture!
Camille Rose Coconut Water Penetrating Hair Treatment
This deep treatment is perfect for high porosity hair: the highly concentrated coconut water is extremely penetrative and will fill in broken and cracked cuticle gaps, allowing for increased moisture retention. A must have deep conditioner for high porosity hair!
Moisture, moisture, moisture!
Think about when your coils are most defined: probably in the shower, where the water is running down your hair and your hair is basking in all that hydrating goodness.
Natural hair loves water. It just can't get enough!
First and foremost, always make sure that you're working with damp hair on low porosity hair and wet hair on high porosity hair.
If your hair is not sufficiently moisturized with water, the product will simply coat your hair instead of penetrating and conditioning.
Once you've washed out your deep conditioner (with cool to lukewarm water), always start with a leave-in.
You must apply a leave-in conditioner first in order to moisturize your hair and prime it for your stylers.
This is your hair's primary moisture source (aside from the water underneath) and should be water-based, light-weight (for low porosity hair), full of conditioning fatty alcohols and rich butters, and encourage friction-reduction between your strands.
Avoid leave-ins that are heavy in mineral oil, petroleum and drying alcohols. For low-porosity naturals, avoid leave-ins with proteins and protein-like ingredients (such as coconut oil) that will decrease your hair's absorption ability and further dry out your hair.
For high porosity hair, follow up your leave-in with an oil or another layer of leave-in to ensure that moisture won't evaporate.
Camille Rose Curl Love Moisture Milk
This product is well-loved by low porosity naturals due to the protein-free formula, but the film-forming humectants (aloe vera and slippery elm) is great for high porosity naturals experiencing moisture loss. The plethora of conditioning ingredients will also make your hair feel soft, supple and conditioned for days. A fan fave leave-in conditioner for all naturals!
Mielle Moisturizing Avocado Hair Milk
A Mielle cult classic, this moisturizing hair milk is formulated with film-forming, moisturizing humectants such as aloe vera, nettle and horsetail extract. It also includes various strengthening ingredients such as rice and wheat protein. A perfect staple product for high porosity strands in need of some TLC.
Time for a Detanglement
To get those juicy, defined coils, you need to make sure of one thing… that your curls are DETANGLED.
When natural hair is tangled, it simply means that the coils have interlocked with other strands.
Your wash and go will be chunky, uneven, dry and dull if there are deep tangles in your hair. Spend some time slowly finger detangling to get rid of all those tangles.
Work in Sections
It's also especially important to work in sections when you detangle to ensure that every curl is coated with enough product. This is key to getting those curls nice and separated!

The thicker your hair, the more sections you should use.
Apply your leave-in conditioner, finger detangle to get the bigger tangles out, and then follow up with a wide-tooth comb or brush to remove the shed hair.
If your hair starts to feel dry, use a spray bottle to re-damp your curls. Never detangle on dry hair!!
Use Gel!
Now, here's where the magic happens.
Your curls are going to feel soft and buttery after the deep conditioner and leave-in conditioners, but now's the time to lock all that in.
The gel step is a delicate one. Be very light-handed. Less is definitely more with gel, otherwise you can be left with the dreaded white flakes!
Start with a dime sized amount per section and rake it through your curls. You can use the prayer-hands motion or use the shingle method – whichever works for you! If you are prone to shedding, use the prayer-hands.
Use gels that are filled with botanical extracts, which are usually film-forming humectants, that pull moisture from the air and create a moisture barrier around the hair. This will ensure your hair will stay moisturized for longer.
Camille Rose Aloe Whipped Butter Gel
The most superior ingredient list of any gel on the market. Virtually all-natural, this gel will hydrate the heck out of your curls and works swimmingly for Type 4 naturals, especially for twistouts and braidouts. A definite must-try!
Kinky Curly Curling Custard
This gel is a cult classic. Long before the plethora of hair gels for natural hair, this gel was holding it down for the curls. Jam packed with film-forming plant extracts such as marshmallow root and aloe vera will keep your coils hydrated and ensure every coil is defined. A fan fave for high porosity naturals!
The Wash and Go Cheat Code: The Banding Method
Back in the day, everyone and their mama was suggesting the pineapple method when sleeping with natural hair.
The pineapple method is when you simply tie your hair up in a high-top bun, where the hair rests on the crown of the head overnight.
Now if you have 3b natural hair, this may work for you.
However if you have tighter curls, the pineapple method will most likely cause breakage and shedding the next time you detangle your hair.
Why? Because the pineapple method causes curl interlocking, especially in your crown, and causing deep tangles and knots.
The banding method, which is a better choice for Type 4 naturals, is using non-irritating hair ties (loose ones with no metal on it) to section the hair and tie them together.
Simply section your hair in 5-7 sections (one in the front, two in the back and 1-2 on each side) and wrap the hair tie at the roots of the hair, and close to the ends (about 10-20 cm away from the ends) to keep the curls intact.
In the morning, spread some oil on your hands and slowly release your section. Fluff your hair out and voila!
This method will 1) minimize breakage and reduce the chance of single-strand knots, and 2) keep your wash and go looking good for a few days!
Final Thoughts on The "Perfect" Wash and Go for Natural Hair
Let's be real: no style is ALWAYS perfect. Our natural hair is a work in progress, and that's ok!
But every natural can achieve a poppin' wash and go if the above steps are followed.
By starting on clean, fresh hair, applying the right amount of moisture, using gel and maintaining the style via the banding method, your wash and go should last quite a few days.