Having a hooded dryer for natural hair at home may seem a little extra, but the benefits of investing in a hooded hair dryer cannot be overstated.
Not only does it make your wash day experience more of a self-care experience (and less of a chore), but it will do wonders for the look, feel and overall hydration levels of your natural hair.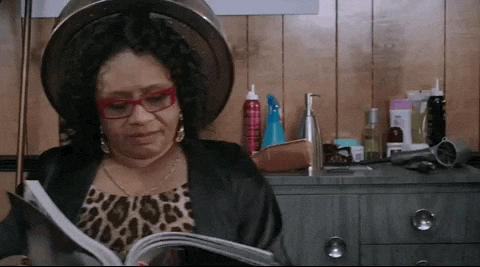 There's nothing better than having a fully set, highly moisturized hair style that will last until your next wash day.
And the hooded hair dryer promises to do just that!
Let's get into the benefits of having a hooded dryer for curly hair, including our recommendation on the best hooded dryer for natural hair on the market today!
Why You Need A Hooded Hair Dryer
A typical hair fibre contains three layers – the innermost medulla (normally only found in coarser-stranded hair), the middle cortex, and the outer cuticle layer.
When we wet our hair, it swells up with all that moisture. And when it shrinks back when its dry.
This swelling and shrinking action can be damaging to the hair shaft, a condition we know as "hygral fatigue", where the weak is weakened with time.
Air drying our hair prolongs the period of swelling to shrinking. Studies have shown that prolonged air drying can cause internal cracking and breakage underneath the cuticle layer. This is bad news for our coils.
To be clear, we want our hair to be moisturized. Water is nature's only true hydrator.
We just don't want our hair to be wet for too long. We want that moisture to be signed, sealed, delivered, as quickly as possible!
Enter the hooded hair dryer.
Red By Kiss 1875 Watt Ceramic Professional Hood Dryer
Turn your home into a salon with this affordable bonnet hair dryer. You can either sit under the dryer while deep conditioning with a plastic cap, or allow your hair to dry after styling. Small enough to conserve space but powerful enough to get the job done.
Benefits of Using A Hooded Dryer for Natural Hair
There are so many benefits to using a hooded dryer for curly hair and coily hair. Here are just a few examples of investing in one for your hair.
Allows your hair to dry faster – it can take up to 8 hours for your hair to dry, depending on your porosity. Getting a hooded dryer will significantly cut down your wash day.
Helps with product absorption – if applied properly, products won't sit atop of your hair when set with a dryer. You'll find that your products actually penetrate into your hair and do its job.
Sets your style fully – air drying your hair is not an optimal way to set your style. When you use a hooded dryer, your style, whether it's a twist out or wash and go, will look that much better when properly set. In fact, some of our styling products are heat activated and work best when set with a dryer!
Reduces shrinkage and shows a truer length – air drying your hair allows for more shrinkage to creep into your style. Your style will give a truer picture to your length when set with a hooded dryer.
Long-lasting definition, with reduced frizz – having a style that is properly set will result in longer definition and an optimized style.
Hair stays moisturized for longer – the ultimate benefit of a hooded dryer for natural hair means that your hair will feel much more moisturized until your next wash day.
How To Use A Hooded Hair Dryer
On clean, conditioned hair, section your hair as desired to start the styling process. Remember: the more sectioned your hair, the more defined your hair will be. Be sure to start on clean hair for best results.
Camille Rose Sweet Ginger Cleansing Rinse
This shampoo is incredibly gentle and non-stripping, but contains enough surfactants to thoroughly cleanse your hair and remove buildup. Ginger root oil – the second ingredient in the formula – is antiseptic, boosting overall scalp health. A must have shampoo in any high porosity natural hair routine!
Spray water down on each section before applying a lightweight leave-in conditioner (only water can keep your hair hydrated!). Finger detangle and follow it up with a detangling tool of choice.
Apply your stylers – a gel for your wash and go's, or a mousse for your twist and braid outs. If your hair is dry at this stage, spray more water. The more water, the more moisturized!
Earthtones Naturals Curl Enhancing Jelly
A Canadian-based brand, Earthtones Naturals focuses on holistic, natural ingredients – and this gel is no exception. Its formulated with some ingredients such as aloe leaf juice, panthenol and sea kelp!
Once this is done, set up your hooded dryer in your area of choice.
Sit under the hooded hair dryer for 20-30 minutes – do not cover the hair. The drying time will depends on how dense or long your hair is. If you have very long hair, use clips to pin the ends of your hair to your crown.
Final Thoughts on Using A Hooded Hair Dryer for Natural Hair
A hooded hair dryer is a win-win for all hair types. It will not only save you time drying, but it will set your style more succinctly and result in more moisturized curls and coils until your next wash day!