Heat protectants for natural hair are a non-negotiable if you heat style your hair. Whether you use a flat iron or blow dry, heat protectants will protect your hair from the harshness of your heat tool.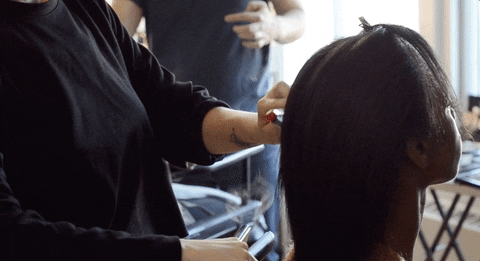 To be clear, heat tools do not cause heat damage, when used safely and correctly. But not using a heat protectant can definitely contribute to heat damage.
Let's get into the best heat protectants for natural hair!
What's The Point of A Heat Protectant
As mentioned, heat protectants offer protection from direct heat.
Direct heat is heat that is applied directly to the hair through heat tools such as flat irons or blow dryers. In contrast, ambient heat, such as hooded hair dryers, do not need heat protectants because the heat is not directly applied to the hair.
There are many types of heat protectant. The type of heat protectant will depend on whether you are blow drying or flat ironing.
What To Look For In A Heat Protectant for Natural Hair
No water – you want to stay clear from water-based products when looking for a heat protectant for natural hair. Water will cause your hair to revert back to your coils, so avoid any water-based products when heat styling.
Silicone-based – silicone-based heat protectants will give your hair the sleek, flat look without looking greasy. It will also help with cuticle smoothing, giving that final shiny, sleek look. As naturals we have demonized silicones in our products, but as long as you are smoothing your cuticles
No oil – using oil as a heat protectant will fry your coils, and will fast track way your way to getting heat damage. Do not use raw oils on your hair before applying direct heat.
A general rule of thumb is when flat ironing, opt for a silicone-based heat protectant spray that won't weigh your hair down.
Important Considerations
The quality of your heat tools will impact the integrity of your style. To be clear: faulty tools can and will cause heat damage! Be sure you're using a quality blow dryer and flat iron.
Always start your heat styles on clean hair, otherwise you risk frying your hair.
If you use heat tools often, keep a protein treatment handy and use it every 6-8 weeks to support your protein stores.
Final Thoughts on the Best Heat Protectant for Natural Hair
Heat protectants for natural hair are critical to ensure healthy hair when using heat tools.
Use silicone-based heat protectants with no water or oil to keep your hair from reverting or getting damaged. Sprays work best for flat irons!