Now that it's summertime in the Western hemisphere, there's no better time to start learning about the best gel for natural hair.
Summertime is the best time to start incorporating gel for natural hair – whether that's to define your curls, sleek back your hair into a bun or lay your edges, hair gel for natural hiar might be just the thing you've been looking for.
But sadly, black people with Afro-textured hair have long believed that gels won't work for natural hair.
This is because for years, mousse and gels and serums have been marketed towards Eurocentric hair types: Type 3a/b and below.
But now, there's a plethora of hair gel for natural hair, formulated particularly for black hair. These natural hair gels, some from our favourite and trusted natural hair brands, were made solely to define our coils and provide some additional hydration.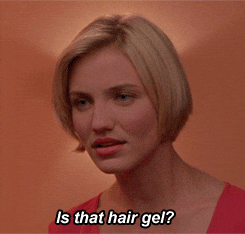 To clear the air: EcoStyler gel isn't our favourite gel on the market and we did not include it in our recommended list below.
While it can be great for sleeking back edges, it's quite tacky (making it difficult to apply and distribute), often leaves white flakes behind, and doesn't contain additional hydration/hair strengthening ingredients that our hair could benefit from.
Ready to find out the best gel for natural hair? Let's go!
Are Gels Good For Natural Hair?
We haven't been taught this before as Afro-textured naturals, but gels can be an incredible addition to our natural hair routines.
---
→ Benefit 1: They Lock In Moisture
If you've done your wash day routine correctly, your moisture levels should be fully balanced. That means that you've followed a complete wash-day routine from pre-poo thorough to deep conditioning session and locked it all in with a hydrating leave-in conditioner. Gel, being the last step of the styling portion of your wash day, will ensure that everything is 100% locked in.
→ Benefit 2: They Provide Curl Definition
This is the most common reason as to why naturals use gel. The curl definition just cannot be matched! Gels have ingredients that promote definition, and many naturals agree that the definition from gels cannot be beaten. Just make sure that your hair is fully detangled to get the most out of your gel. Curl definition starts here!
→ Benefit 3: Lays Your Edges
In the past few years, there's been extra emphasis placed on laid, sleek edges, a trend started by the black Hollywood stars of the '90s. Make no mistake: having laid edges isn't 100% necessary. In fact, sometimes our edges just want to be left alone. But having sexy, laid edges can definitely take your look to another level, and there isn't anything wrong with that!
---
In addition to the above, natural hair thrives best with gentle, non-drying ingredients. And unfortunately, some of the worst ingredients for natural hair can be found in gels!
These terrible ingredients include drying alcohols and mineral oils that provides temporary results but results in permanent damage.
Some of the ingredients that are great for natural hair (that are found in gels) include flaxseed, growth-promoting essential oils (such as rosemary oils) and other plant-based, hydrating ingredients.
These gels will not only provide the curl definition you're looking for, but will also include ingredients that will further you along on your natural hair journey.
Does Gel Damage Natural Hair?
One of the many questions we hear about often about gel is: does gel damage natural hair?
And to answer simply: yes, it can, if you don't wash it off.
Product buildup is notoriously common in natural hair (especially if you have low porosity natural hair), so you need to make sure you don't delay your wash day routine.
There are a few things to note around if gel damages natural hair:
❤ Always make sure to use gels as the last step in your routine, after using a leave-in conditioner/cream;
❤ Stay away from gels with a lot of alcohols and mineral oil-based products as they can contain drying ingredients that can cause breakage overtime;
❤ Less is more when it comes to using gel for natural hair, so make sure you're not heavy-handed when using it. Otherwise, you could be left with the dreaded white flakes.
Now, let's get into the best gel for natural hair:
Best Gel for Natural Hair
Alternatives to Natural Hair Gel
Not interested in using gel for natural hair? Don't worry, there are some options.
Alternatively, you can create your own DIY flaxseed gel!
Can Gel Grow Your Natural Hair?
One of the most frequently asked questions concerning gel is: can gel can grow your natural hair.
The answer: no, and yes.
Gel itself cannot grow natural hair. There is no scientific evidence that claims this.
But, the process of using the gel itself can.
If you're diligently following a natural hair routine (deep conditioning, protective styling, etc), follow a strict and timely wash day routine (ensuring gel is not building up on your hair), and also using a moisturizing leave-in conditioner, you should see growth.

So the gel itself is not growing your natural hair, but the process of prepping your hair for the gel is.
Final Thoughts on Using Gel for Natural Hair
Using gel for natural hair can be an incredible way to define your curls, lock in moisture and incorporate great ingredients in your routine.
We've listed the best gel for natural hair for you above, so make sure you check them out.
These hair gels for natural hair can give you confidence that you're not only getting a great formula, but that these gel for natural black hair were made for your coils in mind.