Has the winter taken a beating on your hair? Have you noticed increased shedding, breakage, and a lifeless look to your curls?
Are you looking for a way to put the bounce back into your curls before the summertime?
If this sounds like you, establishing a consistent yet simple spring natural hair routine is the solution.
By creating a spring curly hair routine (and actually sticking with it), you're setting yourself up for bouncy, healthy, and overall beautiful curls for the summer.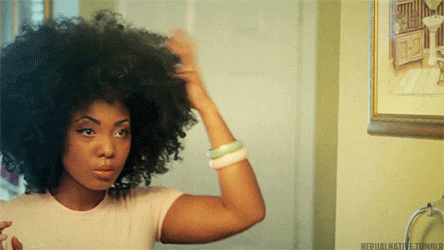 How The Seasons Affect Our Natural Hair
If you live in the Northern Hemisphere, you experience seasonality on an annual basis.
The further away you are from the equator, the more you will experience the full effect of the various seasons – heat in the spring/summer and cold from the fall/winter.
With the seasons come a change in air temperature. Spring time in particular brings warm weather and rising air temperatures, and warm air temperatures generally contain higher moisture than cold air.
The bottom line is that, since the temperatures are starkly different from winter to spring, we should aim to cater our natural hair routines to adjust for the differences. In reality, we only have to make a few small tweaks to ensure our hair is keeping up with the change in environment.
Here are the top ten things you need to incorporate into your spring curly hair routine:
Start with a Fresh Trim
The first thing you should do for your spring curly hair routine is to do some light dusting. And I'm not talking about your apartment.
It's time to dust those ends!
No curly hair routine is successful without getting rid of dead ends. And the same goes for your spring curly hair routine!
Dead ends hold you back from achieving your length goals, simply because the split ends will just keep splitting.
They'll split right up to the root if you don't monitor it. This is especially true after a long, dry winter, where the cold air temperatures can accelerate dryness and breakage.
Humour Some Humectants
Humectants, if you know how to use them properly, can amplify your hair routine this spring.
In simple terms, humectants are agents that pull moisture from the air and into your hair. These are incredibly advantageous in the spring and summer where there is ample moisture in the air.
Naturals will find further benefits from using film-forming humectants, which take it one step further: they create a barrier around the hair, keeping the moisture from evaporating.
These humectants are also incredibly light-weight, which is great for low porosity naturals who typically experience product buildup. It's also great for high porosity naturals with moisture retention issues.
Look for products that include film-forming humectants such as: aloe vera, flaxseed, slippery elm, marshmallow root, nettle, horsetail extract, and hydroxyethylcellulose. Here are some examples of our favourite film-forming products for deep hydration and definition.
Clarify… Like, ASAP!
Shampoo is essential to keeping our scalp clean, as the detergents and surfactants in the shampoo formulas remove dirt, product build-up, bacteria and mineral build-up (if you live in area with hard water).
Dirty hair means that your products and moisture are blocked from being absorbed into your hair.
To be clear: your hair will never be properly moisturized if you don't clarify your scalp and hair regularly. This is especially true during the warmer months, when we are more prone to perspire.
There are many different shampoos to choose from, but two main shampoos all naturals should have are moisturizing shampoos and clarifying shampoos.
Moisturizing shampoos contain gentle yet effective surfactants that remove product build-up and dirt from the scalp. These shampoos are excellent for regular use
Clarifying shampoos, on the other hand, contain deep cleaning detergents that deeply clean the hair and remove hard-to-reach dirt, including mineral build-up (especially shampoos with chelating ingredients that can break these bonds. Clarifying shampoos are a must for low porosity naturals who experience accelerated product buildup.
If you are able to, investing in these two shampoos will ensure your scalp is clean, and will prime and prep your hair to uptake all the glorious moisture and products during the moisture process.
Drop the Heat Styler Like It's Hot!
Flat irons, much like relaxers, are the antithesis of natural hair.
Altering your natural curls using a straightener comes at a high price: if used frequently, your ends may become more frail, dryness will increase, and in some cases, you may lose your beautiful curl pattern.
Nothing is worth that!
You can still manipulate your hair creatively without a flat iron. For example, braid outs and twist outs are excellent ways of achieving voluminous, defined hair. These are healthier alternatives for when you want to switch up your hair.
Not to shame those who like to have straight hair, but if you decide to incorporate the use of flat irons into your spring curly hair routine, use them with care. That means deep conditioning and using a proper heat protectant prior to straightening.
Up Your Protein Treatment Game
Protein treatments are essential in any good natural hair routine. It's even more important to add it into your spring hair routine.
Below is a cross-section of a single strand of hair. Our hair is made up of proteins located in the cortex of the hair (underneath the cuticle layer).
These proteins found in the cortex provide the hair with strength and rigidity. Without it, your curls will be limp, lifeless and flat.
Protein treatments are essential to mitigate protein loss from mechanical (detangling) and chemical (heat tools, dyes. relaxers) damage, and should be included in all natural hair routines.
This is especially true in the spring and summer, when we experiment with cute spring protective styles!
Remember: it's important to custom your protein treatments for your porosity and hair width.
Smaller-sized proteins (think amino acids and peptides) are small enough to penetrate into your cortex and strengthen the hair. These treatments are great for all porosities and hair widths.
On the other hand, larger-sized proteins, such as hydrolyzed wheat and collagen, have similar properties of film-forming humectants, where they create a barrier around the hair.
These protein treatments are best for high porosity hair/fine-medium hair strands, and can accelerate dryness in low porosity and coarse-strand hair.
Pre-poo
If you're not pre-pooing, it's time to start!
Naturals swear that having a solid pre-poo routine is the single most important thing you can do to enhance your wash day routine.
Not only does it keep your hair feeling soft and supple (before AND after shampooing), it also cuts wash day in half.
And who wouldn't like that?
A good pre-poo is one that is oil-based and, depending on your preference, has some slip to detangle. You can even DIY your own pre-poos with regular conditioner and your favourite oil.
Olive oil is a great oil for low porosity hair as a pre-poo. Coconut oil will work great for high porosity hair (but not so much low porosity hair).
Don't Cheat on Deep Conditioning
This is the stage where we want to treat our hair with highly penetrative and moisturizing deep conditioners.

The best deep conditioners for low porosity hair are slippery, contain moisturizing ingredients and do not include any film-creating ingredients such as large-sized proteins or coconut oil. Use heat on your low-po hair when deep conditioning to loosen and lift your cuticles to allow the product to penetrate.
High porosity hair can get away with using protein-rich deep conditioners but should also look for fatty alcohols and friction-reducing butters to soften and condition high-po hair.
Use High-Grade, Moisturizing Leave-in Products
Your leave-in routine will determine whether your hair stays moisturized… or dries within the hour.
Make sure to use high-quality, highly moisturizing and conditioning leave-in products (leave-in conditioner, gel, cream stylers, etc).
Avoid
Avoid using drying ingredients, including those those laden with mineral oil or petroleum, which create a film around the hair and don't allow products to enter into the hair (which contains none of the vitamins from plant-based oils!).
Alcohols to avoid include SD-alcohol, propyl alcohol and isopropyl alcohol. Look for fatty alcohols such as cetyl and ceteryl alcohol that condition the hair and provide slip.
Eat Your Way To Spring Natural Hair
As much as we hate it, no spring natural hair routine can truly thrive without some sort of health and lifestyle change.
If you are determined to have long, healthy, moisturized natural hair, you must ensure you're getting the right vitamins into your life, both macro (food) or micro (supplements).
Exercise is another key part of a healthy hair routine, and a healthy physical life. Exercising naturals swear that exercising regularly, in addition to a healthy diet, boosts their hair growth cycle significantly.
Healthy hair starts with a healthy body. If you focus on what you put on your hair just as much as what you consume, you'll notice a significant increase in your hair growth potential.
Final Thoughts on Your New Natural Hair Routine for Spring
There is no better time to create a spring curly hair routine. If you are laying off the heat, getting regular trims, pre-pooing, deep conditioning and using protein adequately, plus incorporating a healthy lifestyle, you are sure to see healthy, flourishing curls this spring.