Rice water has made quite the name for itself as a "miracle hair growth recipe", with claims to grow natural hair overnight.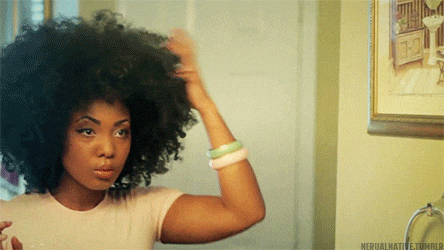 While nothing in life can grow your hair overnight, many naturals claim that their hair has significantly improved in elasticity, shine and definition, as well as length retention, after using it.
There are also some naturals have experienced adverse effects to using rice water, such as dryness, breakage and shedding – the polar opposite of healthy hair.
Let's get into the science behind rice water for natural hair.
What Is Rice Water?
Rice water is the suspension of fermented rice starch. When rice is left to sit in water, its starch is slowly released via fermentation into the water, creating a thick, semi-opaque water.
The properties of rice water are known to contain various vitamins such as Vitamin B, C and E and minerals such as selenium and zinc, including proteins, lipids, antioxidants and triglycerides from the starch.
Rice water is also known to contain arsenic, which is either anthropogenic (from insecticides) or natural depending on local geology (i.e. where the rice is from).
From a molecular standpoint, rice water should be considered a protein treatment. Rice molecules are relatively large on the protein scale, and thus cannot fully penetrate into our cortex (where the protein lies) and only coat the hair strand.
We'll touch more on what this means for natural hair shortly.
History Around Rice Water Use
There's a clear cultural significance in using rice water, regardless of current trends.
The Chinese village of Huangluo have been named the "world's longest hair village" in the Guinness Book of Records. Historically this village has been known for using rice water for hair care and skin care.
Court ladies of the Heian Period (approximately (794 to 1185 CE) have been known to wash their hair with the leftover rice water used to clean the rice. These women were also known to have long, thick hair.
It's important to note that genetics plays a part in these cultural norms. Trying to replicate this in natural hair may lead to disappointment given the phenotypical differences between straight hair and curly hair.
Rice Water for Natural Hair: Is It Worth The Hype?
There are limited peer-reviewed studies that show the clear benefits of rice water.
The International Journal of Cosmetic Science published a study in 2010 that suggests rice water improves hair elasticity and reduces surface tension, meaning more shine and less breakage.
However the authors also note that rice water, due to its high starch content, can cause scalp issues such as flakiness and itchiness.
To be clear, no trend is worth compromising our hair follicles. Healthy hair starts at the scalp.
Another thing to consider is the fact that, from a molecular standpoint, rice (when applied to the hair) should be considered a protein treatment.
We know protein treatments are important in any natural hair routine, especially on damaged hair and/or hair that is prone to breakage (such as fine hair).
However, just like any other protein treatment, the overuse of rice water can result in protein overload, which is when we apply too much protein to our hair.
Protein overload can result in stiffness, breakage, shedding, follicle irritation and other unfortunate issues – not fun!
Protein and Porosity: A Clear Relationship
We also know that low porosity hair can be "protein-sensitive" – meaning that rice water may actually dry out your hair if you are low-po.
On the protein-scale, rice is a heavy-weight protein molecule that creates a film around the hair (almost like a glaze).
Protein treatments that are formulated in a lab are much more effective protein treatments than DIY home treatments such as rice water, as they've been formulated to actually penetrate into the hair and do a better job of temporarily supporting our protein stores.
Rice water is also a potential breeding ground for bacteria and fungi. Yuck!
If you are looking for a protein treatment (without the fuss of making it at home), there are many on the market that are formulated to be effective and to do more than just sit on top of the hair.
How To Make Rice Water
However, if you still want to make rice water (and don't have access to well-formulated products), there are two ways to make it.
Boiling: pour about ½ of a cup of uncooked rice in a strainer, rinsing well. Boil 2 cups of water on a pot and pour the rice into the water, once boiled. Boil until the water is cloudy. Turn off the temperature and once cool, strain the rice and funnel the rice water into a spray bottle. Refrigerate for up to one week!

Soaking: this method is easier. Simply you add 2 cups of water and ½ of a cup of uncooked rice to a non-metal bowl and allow to sit overnight, for up to 24 hours. Drain the rice water into a jar and there's your rice water.

Rice water can be smelly, so add a few drops of your favourite essential oil to mask the fermented smell.
Best Products With Rice Water
Now you may want to use a product that is already formulated with rice.
There are a few products, such as shampoo with rice water, that boast similar benefits from rice water without the hassle of DIY-ing it at home.
Here are some products that include rice in their formula.
How Often To Use Rice Water Treatments
Rice water is considered a protein treatment, so everyday use is not recommended, especially for natural hair.
Natural hair is inherently dry and craves water for moisture, and rice water (which is a protein treatment) will further dry out your hair if improperly used.
Use it once a month as a pre-treatment before your shampoo for up to an hour. Always be sure to shampoo thoroughly to ensure all rice water is removed from your coils, and deep condition with a protein free deep conditioner to replenish your moisture stores.
Camille Rose Sweet Ginger
TGIN Miracle Repairx
Alternatives to Rice Water
If you are looking for a homemade treatment that's not protein-based, try rosemary water.
Preliminary studies suggest that rosemary water has hair growth potential similar to 2% minoxidil, a popular hair growth product targeted at stopping hair loss.
To make it, boil rosemary leaves on a pot of water. Allow the rosemary to boil until the water starts to turn red – strain the mixture into a spray bottle for easy application. Store in the fridge for up to 5 days.
Final Thoughts on Rice Water for Natural Hair
Rice water has been put on a pedestal to be the miracle hair growth recipe we've been looking for. To be clear, there is no such thing as an overnight hair growth product.
Be sure to limit your rice water treatments to monthly, and be on the lookout for protein overload – if your hair starts to feel dryer and more brittle than usual, fall back on the protein treatments.