Protein sensitivity is a relatively under-researched topic in the natural hair world.
Many naturals often cite adverse effects after using protein treatments and protein-based products, such as brittle, stiff hair.
To be clear: this is the opposite of what a protein treatment is supposed to do!
Protein treatments are meant to strengthen the hair, not dry it out. If this sounds like you, you may be "protein sensitive".
Here's what you need to know about protein sensitivity, including the best products for protein sensitive hair.
The Importance of Protein in Natural Hair
Protein, as we know, is one of the most important cornerstones of healthy natural hair (after moisture).
Simply put, our hair is composed of up to 95% of keratin proteins (located in the cortex) that provide strength and elasticity to our curls and coils.
Without protein, our hair would be weak and lifeless.
Remember: natural hair is incredibly sensitive to damage from both mechanical (detangling, manipulation) or chemical weathering (dyes, bleach, relaxer, sun damage).
It's important to remember that hair is dead cells. Unlike skin, our hair is unable to regenerate or heal itself after experiencing damage.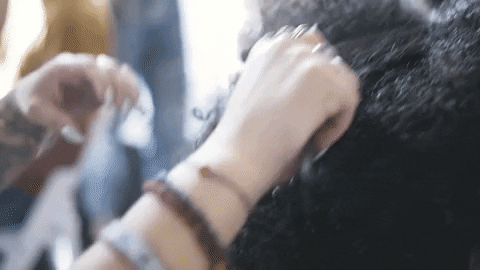 As such, we need to replenish our hair with strengthening proteins that can replenish our lost protein stores and keep our hair fibres strong, using replenish protein treatments.
If you experience dryness after using a protein treatment, you may have protein sensitivity.
What Is Protein Sensitivity?
Protein sensitivity occurs when the hair has an adverse reaction to protein-based leave-in and wash-off products. Many low porosity naturals, or naturals with coarse-stranded hair, are also protein sensitive.
Here are some common signs of protein sensitivity.
Brittle hair that starts to break
Legions or bumps at the scalp
Extreme frizz
Cannot hold water
Now logically, as natural hair is made up of proteins, it's technically impossible to be protein sensitive as a natural.
The real trick is to use the right type of proteins for your hair to make sure you don't experience any of these issues.
Generally speaking, smaller-sized proteins such as amino acids and peptides work best for protein-sensitive hair, as they actually penetrate into the hair fibre, supporting the native proteins in the cortex.
How Do I Know If I Am Protein Sensitive?
The best way to know if you are protein sensitive is to do a patch test. Take a small section of hair near your ear, where the hair is hidden, and apply a protein treatment for 20 minutes.
Wash it out and take stock of your hair. If your hair is dry, limp and breaking, you have protein sensitive hair.
Another effective litmus test to know if you are protein sensitive is to know your porosity.
High porosity hair, as it has gaps and breaks along the cuticle layer, can be more liberal with protein-based products as they will fill in cuticle gaps and increase moisture retention.
If you are low porosity, you want limit the use of proteins and protein-like molecules, such as coconut oil, which create films around the hair.
The best way to do this is to use small-sized protein treatments monthly, and ensure that your regular leave-in products contain little to no protein/protein-adjacent ingredients.
Best Products for Protein Sensitive Hair
The below products are protein-sensitive friendly and also contain little to no coconut oil, which we know is a protein-like ingredient.
Protein Treatments for Protein Sensitive Hair
As mentioned, you should still try to incorporate proteins into your routine. The trick is to use small-sized protein molecules, at least once a month, that can actually penetrate into your hair strands without leaving a film.
Final Thoughts on the Best Products for Protein Sensitive Hair
The important thing to take away from all of this is that protein sensitive hair still needs some protein in their routines, but in a very controlled setting.
The best products for protein sensitive hair on a day-to-day basis (i.e. leave-in products) are entirely moisture based with little to no protein and protein-like ingredients, such as coconut oil.
On a monthly basis, using smaller-sized molecular proteins on your hair, such as amino acids, will keep your protein stores strong and solid without causing brittleness or dryness.