Olaplex has been made quite a splash in the natural hair community over the past couple of years.
A salon-grade brand, Olaplex's mandate is to repair, protect and strengthen all hair types for visibly noticeable results.
Many naturals wonder, as the brand is not targeted directly to coily hair, if using Olaplex for curly hair is worth the hype.
The answer: hell yes!
Let's get into why Olaplex for natural hair should be considered a non-negotiable.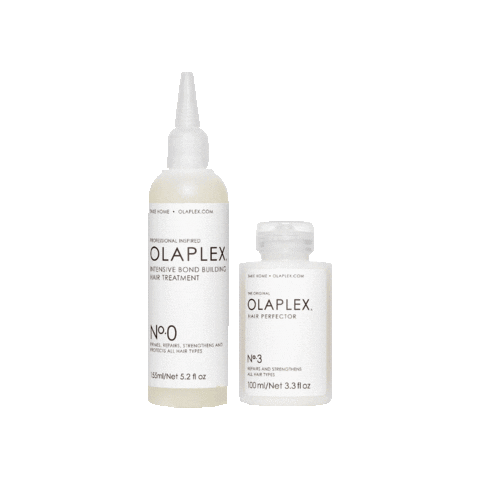 The Importance of Protein for Natural Hair
We all know that protein is a key cornerstone of healthy natural hair.
Not only is our hair primarily composed of disulfide-bonded keratin protein (anywhere up to 95%!), these proteins are responsible for reducing breakage, encouraging moisture retention and keeping our curls bouncy and elastic.
We also know that natural hair is incredible sensitive and fragile, and our protein stores are highly susceptible to damage from mechanical weathering (i.e. detangling, excessive manipulation) or chemical weathering (flat irons and heat tools, bleach).
Common signs of lack of protein in natural hair includes:
Hair that is frizzy/does not retain a style
Dries very quickly after a shower
Has turned a lighter colour, especially at the ends
Unfortunately, as our hair is dead cells, it cannot repair or regenerate itself. We need to keep up with regular protein treatments that will replenish our protein stores until the next treatment session. This is especially true for naturals who chemically (dyes, bleach) alter their natural hair.
Now, not all protein treatments on the market will work for your hair type.
A downside of many popular protein treatments is that they can create a film around the hair, especially protein treatments that include larger-sized protein molecules, such as collagen and hydrolyzed wheat/soy/rice/oat proteins.
These molecules are unable to penetrate into the hair strands, creating this film. This will be effective to treat high porosity hair but is bad news for low porosity naturals, who already struggle with product buildup.
Cue in Olaplex for curly hair.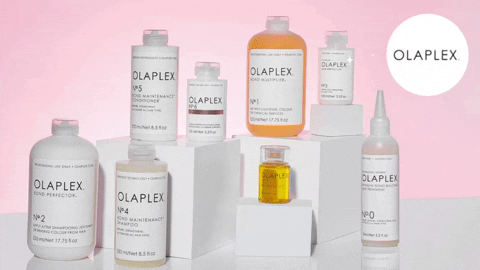 Why Olaplex is Different From Other Protein Treatments
Olaplex's signature and patented ingredient, bis-aminopropyl diglycol dimaleate, is more than just a protein source.
This ingredient is chemically similar to the disulfide bonds in our hair and is able to actually penetrate into our hair and support our native proteins.
Studies have indicated that this ingredient, under a microscope, morphologically improved the structure of the hair fibre.
For us naturals, improving the structure of hair fibre will immediately yield an increase in moisture retention, as water loss occurs when there are gaps and breaks in our cuticle layer and damage to our cortex.
Curl elasticity is the second benefit, where the hair has increased in strength and malleability and can withstand manipulation.
The best part about this ingredient is that it does not create a film around the hair, unlike other protein treatments.
Not only that, your hair will take whatever it needs from the formula, and the rest will be washed away, ensuring no product buildup. Score!
This protein treatment is great for low porosity naturals but high porosity hair will benefit from using the Olaplex ecosystem, too.
Best Olaplex Products for Natural Hair
Let's get into each product in the Olaplex ecosystem and how you can use it in your natural hair routine.
Olaplex for Natural Hair: Shampoo and Conditioner
Shampoo is also critical for a healthy scalp ecosystem. When we disrupt the delicate balance of our scalp microbiome, we are susceptible for various issues such as scalp inflammation and potential hair loss.
For naturals with damaged hair, you may be tempted to simply co-wash and skip the shampoo, for fear of drying out your curls and coils.
This is harming your hair in more ways than you know.
Instead of skipping shampoo, try incorporating a strengthening shampoo like the Olaplex No 4 Maintenance Shampoo. This shampoo contains their patented ingredient that will keep your hair clarified and buildup free, with a strengthening boost to match,
Conditioners have multiple benefits but in short, they smooth the hair shaft, improve manageability and prime the hair for leave-in products.
Formulated with conditioning fatty alcohols and lipids, the Olaplex No 5 Bond Maintenance Conditioner does just that.
Olaplex for Natural Hair – Treatment
Targeted, well-formulated treatments are make or break your natural hair.
Olaplex No 3 treatment is especially effective for natural hair – the formula contains a plethora of conditioning agents that will provide some slip during the application process.
It's important to note that the other treatment, No 0, does not contain any conditioning agents that provide slip – this treatment is best for wavy hair.
Just like the shampoo and conditioner, the Olaplex No 3 treatment contains their patented ingredient to strengthen your coils.
An Olaplex Natural Hair Routine
Putting together all of the products, here's how you use Olaplex for natural hair:
Section your hair out in 4 parts and dampen each section.
Apply the No 3 treatment from root to tip, focusing on your ends
Leave on for at least 10 minutes but no more than an hour. Do not detangle.
After the alotted time, drench each section before shampooing using the Olaplex No 4 Shampoo. Shampoo twice for best results – and don't forget your scalp!
Follow up the shampoo with the rich Olaplex No 5 Conditioner, applying in sections. Finger detangle each section to remove big tangles before going back in with a natural hair-friendly brush.
Once you wash out the conditioner, use a moisture-rich deep conditioner to balance out the protein-based products. Leave on for 10-15 mins in your shower, allowing the steam from the shower to help the product penetrate.
Lastly, wash out the deep conditioner and apply a protein-free leave-in conditioner. Top it up with your styler of choice – either a gel for wash and go's or a mousse for braid/outs.
Final Thoughts on Olaplex for Curly Hair
It's an unfortunate reality that natural hair is highly sensitive to both mechanical and chemical weathering.
Proper protein upkeep is essential for strong and malleable natural hair.
Olaplex for natural hair is seriously worth the investment. Their No 3 treatment is an incredibly innovative and exceptional product for natural hair, as it is extremely effective in penetrating into the hair shaft, smoothing down our cuticle layer and supporting our native proteins. A must have!