After a long winter, summer 2021 is upon us! Time to upgrade our summer natural hair routine.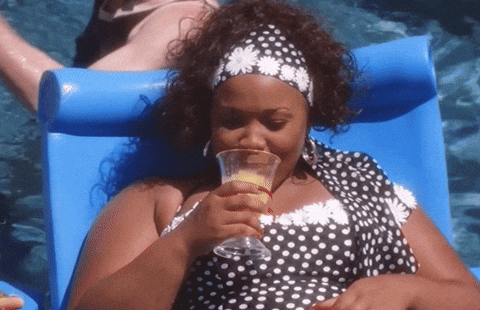 In winter, we increased our deep conditioning treatments, decreased our protein and shampoo use, and protective styled as often as possible.
Although the warmer months are more gentle on our strands, we need to stay just as diligent on our natural hair routines. This also includes using the best natural hair products for summer that will protect our hair from sun and heat damage.
Here's how to maintain healthy natural hair this summer.
Keep Your Hair Clean
Unlike winter, hotter temperatures mean more perspiration. More perspiration on your scalp leads to dirt, grime, oil and bacteria that needs to be taken off.
The first order of business for your new summer natural hair routine: keep your scalp and hair clean.
There is a misconception in the natural community that shampoo is bad for you. The bottom line is that you must clarify your natural hair on a regular basis.
Shampoos is the most common method of clarification, but you can also use clays and cleansing conditioners to supplement.
For the summer months, you should alternate between a moisturizing shampoo and a clarifying shampoo.
Moisturizing shampoos contain gentle yet effective surfactants that remove product build-up and dirt from the scalp. These shampoos are excellent for regular, weekly use
Clarifying shampoos, on the other hand, contain deep cleaning detergents that deeply clean the hair and remove hard-to-reach dirt, including mineral build-up (especially shampoos with chelating ingredients that can break these bonds. Clarifying shampoos are a must for low porosity naturals who experience accelerated product buildup.
Camille Rose Sweet Ginger Rinse
This shampoo is incredibly gentle and non-stripping, but contains enough surfactants to thoroughly cleanse your hair and remove buildup. Ginger root oil – the second ingredient in the formula – is antiseptic, boosting overall scalp health. A great, gentle shampoo for weekly use. 
Mielle Pomegranate & Honey Shampoo
This shampoo is one of the most moisturizing shampoos on the market. Key ingredients such as honey and panthenol reduce friction between hair strands, providing additional slip for detangling and does not overly strip the hair once rinsed. A must try for Type 4 naturals!
Tresemme 2 and 1 Cleanse and Replenish Shampoo
This shampoo is a triple threat: it contains deep cleansing and detoxifying detergents that will remove accumulated buildup; remove mineral buildup from hard water, and; includes conditioning agents to avoid stripping the hair. Best as a monthly shampoo to detoxify the scalp and reset the hair, and is a great shampoo for low porosity hair that is prone to accelerated product buildup. 
Keep Your Protein Balanced
The sun, although amazing for sustaining life on Earth, can be damaging to our curls.
UV rays are strong enough to break the protein bonds in our hair, increasing our hair's porosity and decreasing our moisture retention potential.
Just as it's important to deep condition weekly, don't forget to keep up with your protein treatments to keep your hair strong and damage-free.
For low porosity hair, look for low molecular weight proteins, such as amino acids and peptides, that can penetrate into your hair and support your protein stores, without forming a film around the hair. High porosity hair will benefit from using varying sized proteins.
Olaplex No 3 Hair Perfector
Olaplex's Hair Perfector No 3 Repairing Treatment has a patented agent that is chemically similar to the disulfide protein bonds in our hair. Using it monthly prior to your wash day as a pre-poo will replace broken bonds in your cuticles caused by sun damage, dyes/bleach, heat tools and manipulation. Great for all naturals for protein upkeep.
Aphogee Keratin 2 Minute Reconstructor
Best for TYPE 3-4, high porosity
This protein treatment is amazing for a protein up-keep, reversing mild heat damage and strenghtening high-porosity hair. Your hair will be defined and bouncy immediately after washing it out. For best results, use for 10-15 minutes in the shower for Type 4 hair, and wash out with cool water. Follow up immediately with a moisturizing deep conditioner. Should be considered a staple treatment for high porosity naturals.
It's Cool To Condition
Just because it's summer, doesn't mean you get to neglect your deep conditioning routine! The sun's rays can suck the moisture from your hair and cause frizz and dryness, especially if you're not using the right leave-in conditioner for your porosity.
Look for deep conditioners that are rich in friction reducing butters, fatty alcohols and ceramides. Low porosity naturals should use protein-free deep conditioners while high porosity naturals should look for some proteins to increase hair strength and moisture retention.
TGIN Miracle Repairx Deep Hydrating Masque
Best for TYPE 4, low porosity
This mask is loaded with a healthy balance of strengthening and conditioning ingredients that will soften your coils and keep dryness at bay. A great, protein-free deep conditioner for boosting moisture in low porosity hair.
Mielle Babassu & Mint Deep Conditioner
Best for TYPE 4, high porosity
One of Mielle's most popular products, the active ingredient in this mask is babassu seed oil, a significant source of Vitamin E and fatty lipids. The protein source in this formula, amino acids, are small enough to penetrate into your hair strands and fortify your cortex. This is a great weekly treatment for high porosity naturals.
Love Your Leave-Ins
The key to choosing the right natural hair products? Look water-based products that include a plethora of film-forming humectants.
In simple terms, humectants are agents that pull moisture from the air and into your hair. These are incredibly advantageous in the spring and summer where there is ample moisture in the air.
Naturals will find further benefits from using film-forming humectants, which take it one step further: they create a barrier around the hair, keeping the moisture from evaporating.
These humectants are also incredibly light-weight, which is great for low porosity naturals who typically experience product buildup. It's also great for high porosity naturals with moisture retention issues.
Look for products that include film-forming humectants such as: aloe vera, flaxseed, slippery elm, marshmallow root, nettle, horsetail extract, and hydroxyethylcellulose. Here are some examples of our favourite film-forming products for deep hydration and definition.
Natural Hairstyles for Summer
Summer is the perfect time to experiment with natural hairstyles.
Whether you are a wash and go queen or prefer stylish braids, be sure to keep your hair moisturized underneath.
The best protective natural hairstyles for summer, especially for fine Type 4 natural hair, are knotless or crochet braids (instead of jumbo braids).
This is because jumbo braids put pressure on single points of your head, while knotless braids evenly distribute the weight of the extensions. This is especially imperative if you are dealing with shedding or hair loss.
Eat Your Greens
There's nothing more important than a healthy lifestyle.
Eating your way to long, healthy natural hair is possible this summer. Focus on buying foods around the perimeter of the grocery store (fruits, veggies, dairy, meats) and avoid eating too much foods located in the interior, or the shelves, which are usually full of loads of salt, sugars, and preservatives.
Remember: our body prioritizes our vital organs over our hair, so support your hair by eating the right amounts of foods for your specific needs.
Final Thoughts on Summer Natural Hair Routine
Curls were made for summertime. There's nothing quite seeing healthy, flourishing natural hair in the sun. If you continue deep conditioning, use the right leave-ins, take care of your scalp and eat your greens, you're well on your way for healthy, natural hair!
Summer 2021 will be one for the books.