Learning how to take care of natural hair can feel like a struggle.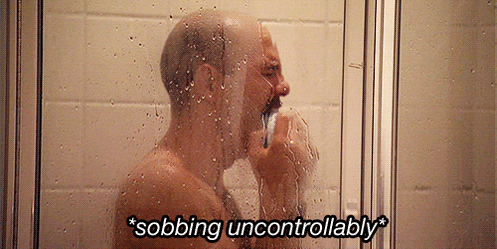 There are many moving parts to a natural hair routine, and it can be quite overwhelming when creating one for the first time.
When we don't have a solid and sustainable natural hair routine implemented, we can fall into dangerous traps such as subscribing to a "more is more" mentality.
This can look like purchasing too many products and over-moisturizing our hair (which, yes, is a thing!).
Although there's nothing with experimenting with new products, this approach can cause more damage to our hair (and our wallets!) long-term, if we're not careful.
Simply put, the key to creating a natural hair routine is focusing on two things: simplicity and consistency.
A simple natural hair routine doesn't have the space for a million products because you use what works. Capitalism and consumerism tell us we need to have a million products in our routines to have healthy hair, and this couldn't be further from the truth.
Consistency is the second piece of the puzzle. Nothing is worth doing if you are not consistent, and this principle also works with natural hair.
Whether we want to see more growth, more moisture or more definition, all we need is a simple routine that we implement consistently, and we'll be guaranteed to see results.
Here's the tea on how to take care of natural hair, broken down on a daily, weekly and monthly basis.
How To Take Care of Natural Hair: Daily
On a day-to-day basis, it's all about listening to your hair.
Learning how to take care of natural hair daily is a skill that you will refine as you go along on your natural hair journey, so don't worry if you are new to this and don't have solid footing yet.
Here are some general tips to guide you on daily maintenance of natural hair.
Avoid Too Much Manipulation
Manipulating natural hair comes in many forms. But on a daily basis, our biggest problem are our own fingers!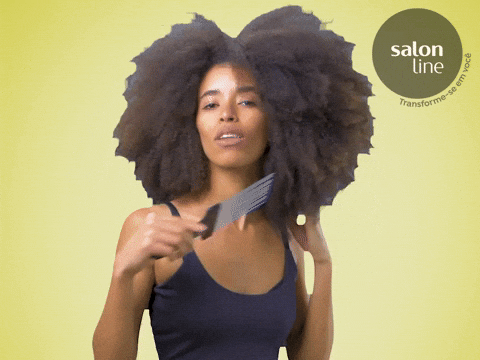 Many of us absent-mindedly play with our hair throughout the day. Whether that's picking at our ends, twirling our coils around our fingers or obsessively fluffing, our fingers can be quite the busy-bodies!
Unfortunately for us, our fingers snatch and absorb the precious moisture from our hair, increasing dryness.
Try to keep your hands out of your hair as much as possible. If you really want to play with your hair, rub some olive oil or coconut oil into your palms prior as a buffer.
Sleep With A Satin
Sleeping with satin (or silk) is a non-negotiable!
Cotton pillowcases rob the moisture from our curls, leaving our hair dry and lifeless the next day. Even sleeping with cotton for one night can cause dryness, which then accelerates breakage.
You'll also notice that your styles won't last as long.
Satin and silk will keep the moisture where it belong – in your hair! This will allow you to retain your style for much longer and reduce the potential for breakage, split ends and single-strand knots.
Re-Moisturize (if needed)
This is the part where, as naturals, we need to learn the art of listening to our hair, a skill that many of us haven't achieved.
Our hair will tell us what it wants. If it feels dry before your next wash day, spray some water on it and re-moisturize using a rich and hydrating leave-in (if you don't know, a spray bottle is so so handy for naturals – and they're super affordable!).
If your hair is still feeling juicy and moisturized by the time you reach wash day, feel free to push back your washing your hair until it feels dry. The choice is yours!
How To Take Care of Natural Hair: Weekly
On a weekly basis, your hair is most likely dry and dirty, and begging for a moisture re-up. The key: a thorough wash day routine!

Moisture starts with wash day, so let's get into what a proper wash day looks like.
Weekly Detangling Session – pre-poo treatment
Detangling natural hair is an inherently damaging process. Naturals have a genetic predisposition to fragility – the tighter our curl pattern, the likely we'll experience breakage.
Weekly detangling is the perfect middle ground to ensuring that our coils remain tangle-free, and breakage-free. Looser curl patterns (Type 2 and 3) can detangle twice a week.
The best time to detangle your hair? During the pre-poo stage.
Pre-poos, which are treatments prior to shampooing, has two benefits:
Acts as a barrier between your hair and the shampoo, as shampoo is an inherently stripping and drying process; and,
Reduces time spent in the shower.
You don't need to go out and buy an expensive pre-poo treatment. DIY pre-poos are just as effective: mix in your go-to conditioner (make sure it has slip), olive oil and a couple drops of your fave essential oil (rosemary oil is the best for hair growth!).
Apply the mixture to your hair in sections, spray some water on each section, and slowly detangle.
Allow the treatment to sit in overnight, or a couple hours after your shower – whatever works for your schedule!
Wash Day
Once a week, you should complete a full wash day routine to keep your hair clean and moisturized, and your scalp healthy. This is a critical step when learning how to take care of natural hair: if you master the wash day process, you've pretty much mastered being natural!
Remember: moisture starts with wash day so it's important not to skip any steps.
In a nutshell, your wash day routine should look something like this:
Pre-poo

A pre-shampoo treatment to prep your hair for shampoo

Use this time to detangle (if using a slippery conditioner)

Shampoo

A critical step for all naturals – simply co-washing (using only conditioner) is not enough!
If possible, have two shampoos in rotation: a moisturizing shampoo (sulfate-free), which are gentler for weekly use; and a clarifying shampoo (or a clay mask) which are best for monthly deep cleaning

Shampoo should be used at least once a week on all hair types

If you have Type 4b and 4c hair, shampoo biweekly with a co-wash session in-between
Focus your efforts on the scalp – do not shampoo the whole hair, as this can be drying for natural hair
Conditioner

Contains emollients to soften the hair after the shampoo and reduce frizz

Use a conditioner with slip for light finger-detangling (if needed)

If Type 2-3b, can skip this step and go straight to deep conditioning
Deep conditioner

Includes delivery agents that brings moisture deeper into the hair cuticle

Repairs and restores the hair for the week to come

Must be used every time hair is washed and shampooed
Look for deep conditioners fortified with plant-based ingredients such as aloe vera, honey, and plant-based oils
Moisturize and seal

Use high-grade, quality moisturizing products to keep the hair moisturized until the next wash day
In general, follow the LOC method for high porosity hair and LCO method for low porosity hair

Liquid (L)

Must be water-based – either a leave-in conditioner or just water

For Type 2a-3b, choose a light-weight leave-in spray or water

For Type 3c-4a, opt for a leave-in milk or light cream

Oil

Use sealant oils to lock in the moisture – examples include castor oil and olive oil

For looser curls, use light-weight oils such as argan oil
For tighter coils, opt for thicker oils such as castor oil or shea butter

Cream

Used for additional moisture
Great for twist-outs and braid-outs
Can be skipped for gel

Gels

Prioritizes definition and shine
Hair must be moisturized first prior to applying
Great for wash and go's
Wash Your Pillowcase/Bonnet/Scarf as Needed
Let's be real: when's the last time you washed your bonnet?
Your sleeping satins, whether it's a bonnet, pillowcase or scarf, can harbor bacteria and dirt throughout the week. This will transfer to your hair and scalp – gross!

Be sure to wash your items weekly to keep sanitary.
How To Take Care of Natural Hair: Monthly
Monthly maintenance of natural hair is all about a reset. We do a lot to our hair on a daily and weekly basis, so it's important to press the reset button on our curls and give our hair a bit of a break.
Dust Your Ends (if needed)
Your ends are the oldest part of your hair. As a result, they contain the most breakage, are the most porous, and overall are the most damaged section of hair.
If these damaged ends aren't trimmed, they can split up the hair shaft, causing unnecessary breakage.

Take stock of the state of your ends at the end of every month. If you're noticing that your ends look wispy, thin and contain some split ends, take a pair of shear scissors (never use household scissors) and lightly dust these areas.
Remember: you don't have to cut your hair every month, but it's good practice to look at your ends consistently and see if you need any trimming.
Clarify Your Scalp
Shampoo is a critical part of any natural hair routine, as we've established above. A chronically dirty scalp can lead to scalp inflammation, follicle damage and dermatitis.
Your scalp is the birthplace of hair, and thus should be taken care of!
On a weekly basis, using a gentle shampoo will keep the scalp clean and the hair moisturized. But once a month, it's important to use a clarifying shampoo to really get in your scalp and clean it out.
These shampoos usually contain sulfates, which are known to be too harsh to be used on natural hair weekly. But using them once a month (with a pre-poo treatment done before as a barrier) will not dry out your hair.
Another cheaper and more holistic alternative is using a clay mask. Clay naturally pulls toxins from the hair and scalp, and once you rinse it out, your hair will be defined and dirt-free.

To do a clay mask:
Mix water, clay, oil and apple cider vinegar in a non-metal bowl and mix with a non-metal utensil
Apply the mixture on pre-detangled hair in sections, focusing on the roots and ends. Leave on for 20 minutes.
Wash off with lukewarm water. Allow the water to wash off the clay and do not touch your hair until the clay is removed.
Apply a generous amount of conditioner to the hair and lightly finger detangle. Deep condition and style as usual.
Protein Treatment
Did you know that curls and coils are made up of protein?
Keratin, a unique protein made by our bodies, keeps our coils bouncy and elastic. Without it, our curls would be straight, limp and lifeless!
Lifestyle (diet and nutrition) and traumatic hair care practices such as detangling and styling can wear the protein from our hair, resulting in curls that don't curl as they used to.
As a result, we need to keep up with regular protein treatments to keep our protein levels nice and balanced.
Here's how to do a protein treatment:
Complete your wash day routine. Instead of deep conditioning, apply your protein treatment in sections.
Leave on for 15-20 minutes
Wash off with lukewarm water and follow up with a moisturizing deep conditioner for balance.
Moisturize and style as per usual
Give Your Hair A Break
Natural hair is inherently fragile. The waves, bends, kinks and coils in our hair all represent potential areas of weakness. The tighter our curl pattern, the more fragile our hair!
Protective styling is a great way to give your hair the break it needs.
For one week out of the month, it's great practice to put your hair away in a low maintenance protective style (dutch braids, bantu knots, cornrows, etc.) to allow your hair to rest from a month's worth of looks.
Final Thoughts on How To Care for Natural Hair
Learning how to care for natural hair may seem complicated, but the most important takeaway is this: listen to your hair.

Paying attention to your hair and learning what it needs is a subtle art that even the most seasoned natural struggles with.
But if you can refine this skill, combined with a strong daily, weekly and monthly routine, you'll notice healthier, more moisturized curls.