If you have Type 4a natural hair, you already know that it takes more than just a deep conditioner for your coils to stay hydrated.
Type 4 hair in general needs a little more TLC to keep the coils hydrated and happy, and this rings true for 4a hair.
4a natural hair has specific needs that must be met to keep split ends and fairy knots at bay, to reduce the likelihood of breakage and ensure that the coils are in a position to grow sustainability.
Let's get into how to take care of 4a natural hair.
What Is Type 4a Natural Hair Look Like?
4a hair, within the Type 4 umbrella, is spongy in texture with strands that are tight and S-shaped coils that start from the scalp.
The strands are approximately the size of a crochet needle, making them strongly defined yet incredibly susceptible to shrinkage.
Your curl twin: the natural hair OG, Whitney White!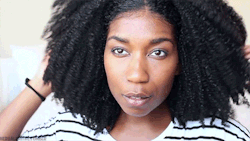 4a hair is also very likely to experience tangles if not properly moisturized. The tight coils are susceptible to overlapping over each other, causing fairy knots and single-strand knots that lead to breakage over time.
Now, before we get into specific tips for taking care of 4a hair, there's another diagnostic trait of your coils that you need to understand:
Natural hair porosity is the ability of your hair to absorb water and/products.
Low porosity natural hair has a low absorption rate, because the cuticles are stubbornly closed. It is difficult for this hair porosity to absorb moisture.
High porosity natural hair has a high absorption rate, because the cuticles are always open. It is difficult for this hair porosity to retain moisture.
Porosity is the single most important characteristic you should understand about your 4a hair, because it tells you how your hair interacts with moisture. And moisture is everything to 4a hair.
If you have low porosity hair, the cuticles are flat, tight and contain no gaps/spaces along the surface. This means that products tend to sit atop the hair, creating product buildup.
High porosity hair means that your hair is highly porous – there are gaps and cracks along the cuticle surface that allow for products and moisture to evaporate out of the hair, if not properly sealed.
Each porosity has its benefits and drawbacks, but there are techniques we can employ to make our leverage our porosity.
Rather than focusing our attention solely on our curl type, working with your porosity will ensure your hair is well moisturized, especially your ends.
We'll discuss how to take care of each porosity type below.
How To Take Care of 4a Natural Hair
Your New 4a Natural Hair Wash Day Routine
Your wash day routine is instrumental for hydrated, juicy coils. Moisture starts with wash day, and the tight 4a hair texture requires deep hydration and limited friction between the strands to reduce breakage.
Shampoo for Type 4a Hair
It's recommended that all naturals wash their hair with shampoo. Just like other hair types, natural hair builds up dirt and product. Dirty hair needs to be cleansed routinely to ensure a healthy scalp.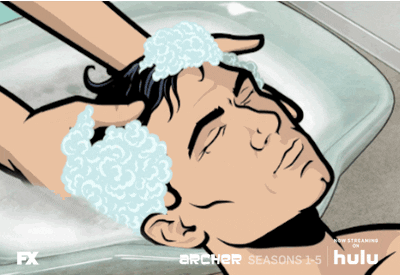 4a hair should shampoo weekly using a sulfate-free, moisturizing shampoo (yes, they exist!) to keep the scalp clean without stripping the hair of its oils. Some naturals also employ a clarifying shampoo (usually with sulfates) once a month to do a deeper cleanse of the hair.
To ensure your hair is not stripped after the shampoo, do a pre-poo treatment before your wash day. This will act as a barrier from the detergent agents in the shampoo.
Coconut oil is a great pre-poo for high porosity hair while olive oil or avocado oil works wonders for low porosity hair.
Follow up the shampoo with a slippery conditioner and gently finger detangle to smooth down the cuticle and prep the hair for your deep conditioner.
TGIN Moisture Rich Sulfate Free Shampoo
Best for TYPE 4, all porosities
Best suited for coilier textures, this shampoo will ensure no product is left behind. Best of all, most of the hydrating ingredients (such as amla oil extract and sugar cane), are right up front in the ingredient list, meaning your hair won't feel stripped after using it.
Mielle Pomegranate & Honey Shampoo
Best for TYPE 4, all porosities
This shampoo is one of the most moisturizing shampoos on the market. Key ingredients such as honey and panthenol reduce friction between hair strands, providing additional slip and promoting moisture retention throughout the shampoo process. A must try for Type 4 naturals!
Deep Conditioner
We all know by now that deep conditioning is a ~ non-negotiable~ for natural hair. Deep conditioners are specifically formulated with delivery agents that allow the product to deeply penetrate into the hair strands.
Choose your deep conditioner based on your porosity and hair concerns.
In particular, high porosity naturals should look for treatments that contain proteins, strengthening plant extracts like henna and cassia, and film-forming humectants (think aloe vera) to encourage deeper hydration.
Low porosity naturals should focus more on hydrating deep conditioners that include ingredients such as honey and fatty alcohols. Use heat to lift your hair's cuticles to let the product truly penetrate and work its magic.
Moisturize and Seal
Think of leave-in conditioners as the first line of defence against dryness. The best leave-in conditioners for 4a hair are water-based, rich in hydrating ingredients and provide enough slip to reduce friction between your strands, reducing the likelihood of tangles and knotting.
For high porosity hair, look for proteins and film-forming humectants in your leave-ins, which pull moisture in from the air and create a film around the hair to protect it from evaporating. Low porosity hair should use products with minimal proteins.
Mielle Moisturizing Avocado Hair Mask
A Mielle cult classic, this moisturizing hair milk is formulated with hydrating ingredients such as aloe vera juice, shea butter and avocado oil. It also includes various strengthening ingredients such as rice and wheat protein – perfect for high porosity strands in need of some TLC.
Camille Rose Curl Love Moisture Milk
This buttery, soft leave-in contains incredibly moisturizing ingredients such as avocado oil, rice oil and aloe vera (aka the moisture G.O.A.T.)! Plays well with creams and gels for defined twist-outs and good for all porosity types, especially low porosity naturals.
To lock in the glorious moisture from the leave-in, use a cream styler or gel to further keep your strands friction-free and define your coils.
Look for cream stylers that are rich in friction-reducing butters and hydrating fatty acids, film-forming humectants and emollients. Opt for gels that include plant-based ingredients such as sea kelp, aloe, nettle and rosemary for added moisture.
Should 4a Hair Use Oils?
A common question amongst naturals is the use of oils in your routines. Many naturals report that oils dry out their natural hair and cause accelerated product buildup.
It's important to understand that, scientifically, oils are not moisturizing. They do not contain moisture and they repel water (unless emollients are added to allow oil and water to mix).
The issue is that oils create an impenetrable barrier around the hair. Unless washed out, this film will remain and any products added on top of the oil will not reach the hair strands.
In other words, oils should only be used as a sealant and should not be directly applied to 4a hair.
If you need to re-moisturize during the week, you should not use oils on your 4a hair. Re-applying products and water during the week will simply sit on top of the oil film, creating the dreaded product buildup.
Cream stylers and gels are effective enough sealant and include butters and oils in the formulas. Play around with using oils in your routines and see what your hair responds best to.
Apply Your Products in Sections
The best way to apply products to 4a hair is to do it in sections.
By working in small sections, you're ensuring that all of your hair is coated with product. It reduces the likelihood of breakage and shedding, and your style comes out that much better.
Keep Your Scalp Clean
A clean scalp (and clean hair) increases your products' penetration capability.
As we said earlier: dirty hair is NOT healthy hair.
Some naturals state that co-washing their hair keeps their hair moisturized, but the facts remain that a dirty scalp can lead to chronic scalp conditions such as dermatitis and follicle inflammation.
With time, shedding and hair loss can occur as a result of a perpetually dirty scalp. And unfortunately, the cleansing agents in conditioners are not enough to deeply cleanse our hair.
Ensure you are washing your hair weekly, and if needed, using a co-wash or cleansing conditioner in between.
Stretch Your Hair
One of the biggest issues with Type 4 hair are the tangles and knots.
Because of the inherent texture of this hair type, the coils tend to interlock, creating deep tangles, fairy knots, single-strand knots and split ends.
Using friction-reducing products that contain slip will help with this, but the art of keeping your hair stretched can further reduce the likelihood of tangles and knots.

Low maintenance styles, such as twist outs and braid outs, are excellent examples of ways to stretching the hair.
However, if you prefer wash and go's (a style that can result in interlocking coils), band your hair at night using satin or silk scrunchies to stretch and elongate your curls. This will keep the hair stretched and curb shrinkage!
Protective Style
Protective styling is a huge win for Type 4 naturals.

Wind, snow and sun all play a role in damaging our hair at a microscopic level. When you put your hair in a protective style, you're protecting your hair from these harsh elements and keeping the moisture where it belongs: in your hair.
Final Thoughts on 4a Hair
4a hair can be frizz and tangle free with the above tips. Having a solid wash day, leveraging your porosity, protective styling and keeping your hair product buildup-free is the not-so-secret secret for healthy, hydrated and happy 4a hair.