Every natural's favourite question (aside from how to grow long natural hair) is how to moisturize natural hair.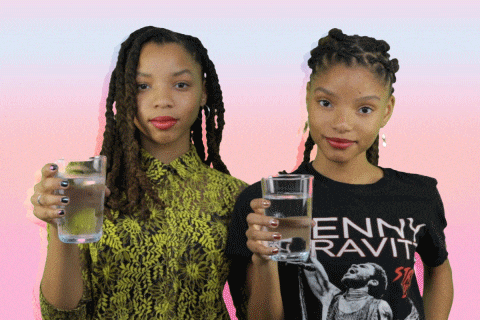 Every natural experiences dryness, regardless of hair type and density. And nothing robs natural hair of its inherent beauty and etherealness than moisture loss.
When natural hair is dry, it causes deeper damage than you can imagine. Dryness can cause split ends and single-strand knots, the two main occurrences that halt natural hair growth in its tracks.
Dry natural hair also has further implications – if your hair is dry, your scalp is most likely dry as well. This can result in permanent damage to your follicles if your scalp is not properly moisturized to support them. Damaged follicles mean ZERO hair growth.
Yikes!
Ready to learn how to moisturize natural hair, the right way? Let's get started!
Why Is My Natural Hair Always Dry?
If you have chronic dry natural hair, you are not alone. Many naturals claim dryness to be their number one issue as a natural.
In a nutshell, there are many reasons why your hair could be dry, such as:
Too much product buildup (aka not using shampoo)
Using low-grade products
Not setting your hairstyles properly
Dead or split ends
Having highly porous hair, where the water escapes through the pores (high porosity)
Damaged hair due to chemical or mechanical damage
There are many reasons why your hair may be dry. Let's get into exactly what you need to do about it.
Step 1: Keep Your Hair Clarified
It may be seem counterintuitive if you've been in the natural hair community for a while. But shampooing your hair is one of the BEST ways to keep your hair moisturized.
Trying to moisturize dirty hair is literally piling water on top of dirt. The moisture cannot access your hair through layers of product build-up, dirt, grime, bacteria and oil.
In other words: clarifying your hair preps your hair to accept moisture. Yes, this applies to Type 4 coily hair too!
It's recommended to wash natural hair every 7-10 days, regardless of hair type.
If you are experiencing dry hair after a shampoo, it's most likely because you are using a low-grade shampoo. Investing in a quality shampoo and conditioner is critical for retaining moisture.
To properly shampoo, drench your hair entirely, working in sections. Lather a quarter size amount of shampoo in between your hands and, stretching your hair with your free hand, apply the lathered shampoo into your scalp.
Continue to keep the section stretched while you shampoo your scalp to keep the section tangle-free. Once you finish with your scalp, smooth down the shampoo down the length of your hair. Repeat this cycle one more time for best results.
Follow up your shampoo with a slippery conditioner. Apply the conditioner on wet hair, and detangle using a detangling tool of choice.
Step 2: Use High-Grade, Quality Leave-ins and Stylers for Moisturized Hair
Your products are integral to your natural hair routine and will provide both the hydration and protein you need to retain healthy moisture levels.
Always apply your products on damp to wet hair. Remember: water is nature's only true moisturizer. There is no moisture without water!
Next, apply leave-ins and stylers where water is the first ingredient to ensure your hair is adequately conditioned. Gel stylers are best for wash and go's, while wrap foams are best for twist-outs.
AG Curl Recoil Curl Activator
This gel is amazing for defined wash and gos. The ingredient list also contains a few beneficial ingredients for natural hair such as nettle and rosemary oil, both instrumental for strengthening hair strands.
Earthtones Naturals Curl Enhancing Jelly
A Canadian-based brand, Earthtones Naturals focuses on holistic, natural ingredients – and this gel is no exception. Its formulated with some juicy ingredients such as aloe leaf juice, panthenol and sea kelp!
Oils To Moisturize Natural Hair?
A common mistake many naturals make is that they think oil can "hydrate" the hair.
Make no mistake, putting oils on dry will hair will further dry out your hair.
Oils are effective sealants but are arguably too effective. Oils and water don't mix, so adding water to hair that has oil will not moisturize your hair.
Opt for formulated, water-based products to condition your hair. If you want to use oils, use them as a hot oil treatment (so long as you clarify your hair afterwards).
Step 3: Set Your Styles!
This step is entirely underrated in the natural hair world. This is as simple as using a blow dryer (with diffuser attachment) or hooded hair dryer to set your style.
The benefits to setting your style includes:
Allows your hair to dry faster – it can take up to 8 hours for your hair to dry, depending on your porosity. Getting a hooded dryer will significantly cut down your wash day.
Helps with product absorption – if applied properly, products won't sit atop of your hair when set with a dryer. You'll find that your products actually penetrate into your hair and do its job.
Sets your style fully – air drying your hair is not an optimal way to set your style. When you use a hooded dryer, your style, whether it's a twist out or wash and go, will look that much better when properly set. In fact, some of our styling products are heat activated and work best when set with a dryer!
Reduces shrinkage and shows a truer length – air drying your hair allows for more shrinkage to creep into your style. Your style will give a truer picture to your length when set with a hooded dryer.
Long-lasting definition, with reduced frizz – having a style that is properly set will result in longer definition and an optimized style.
Hair stays moisturized for longer – the ultimate benefit of a hooded dryer for natural hair means that your hair will feel much more moisturized until your next wash day.
Red By Kiss 1875 Watt Ceramic Professional Hood Dryer
Turn your home into a salon with this affordable bonnet hair dryer. You can either sit under the dryer while deep conditioning with a plastic cap, or allow your hair to dry after styling. Small enough to conserve space but powerful enough to get the job done.
Step 4: Sleep With Silk
Now, after all of this, why would you NOT protect your hair while your sleep?
Your cotton pillowcase is responsible for jacking all that precious moisture from your scalp. The rough edges of cotton fibres will tug and pull at your ends, causing knots, tangles and two-strand twists. The agony!

To fix this, you MUST sleep with either satin or silk at night. These can be found in either pillowcase form or even in a wrap or bonnet.
Mulberry silk is the highest quality silk on the market. Silk fibres are smooth under a microscope and will not interfere with your moisture levels. Plus it feels very luxurious, too 🙂
Natural Mulberry Silk Pillowcase
A silk pillowcase is the most effective way to protect your natural hair at night, and also has some skin benefits as well. This pillowcase by MYK Silk is made from mulberry silk, the highest quality silk on the market today. Comes to a wide variety of colours to match your bedroom aesthetic (with a cotton underside for affordability). Use code THECURLMARKET15 for 15% off your purchase!
Silk Bonnet With Comfort Elastic Band
Silk bonnets are a game changer for all naturals. This silk bonnet by MYK Silk is not only super soft, but contains a sturdy yet comfortable elastic band that will keep your bonnet on your head all throughout the night. Comes in super cute colours and different sizes. Use code THECURLMARKET15 for 15% off your purchase.
Mulberry Silk Scrunchies Combo
Who says natural hair has to be boring? These silk scrunchies from MYK Silk are both stretchy yet strong, made from the highest quality of silk (mulberry silk). Comes in a pack of 3 with a variety of colours to match your aesthetic. Use code THECURLMARKET15 for 15% off your purchase!
Additional Ways To Moisturize Natural Hair
Deep Condition Weekly
Deep conditioners are formulated with penetrative ingredients and delivery agents that can help repair and restore dry, damaged hair.
If you are experiencing dry, damaged and breaking hair, start incorporating weekly deep conditioners into your wash day routine. Follow the instructions on the back of the jar for best results.
TGIN Miracle Repairx Deep Hydrating Masque
Best for TYPE 3-4, low porosity
This mask is loaded with a healthy balance of strengthening and conditioning ingredients that will soften your coils and keep dryness at bay. A great protein-free deep conditioner for boosting moisture in low porosity/protein-sensitive hair.
Mielle Babassu & Mint Deep Conditioner
Best for TYPE 3 – 4, high porosity
One of Mielle's most popular products, the active ingredient in this mask is babassu seed oil, a significant source of Vitamin E and fatty lipids. The protein source in this formula, amino acids, are small enough to penetrate into your hair strands and fortify your cortex. A great weekly deep conditioner for high porosity naturals.
Protective Style
Protecting styling is an excellent way to give your hair a break. Examples include braids, twists, and wigs (when installed safely and correctly).
Remember: protective styling is an artform. Moderation is key. Don't protective style every week of the month, otherwise you are exposing your follicles to damage. If you decide to install braids or jumbo twists, opt for knotless braids that put less tension on your hair follicles.
Get A Trim
If all else fails, it may be sign to get a trim. Dead, split ends will always be that – split. It may be worthwhile seeing a natural hair professional to take a look at your ends to see if they need to be trimmed.
Final Thoughts About How To Moisturize Natural Hair
If you suffer from dry, dehydrated hair, don't feel bad. Natural hair is dry by nature. All naturals suffer from dry hair!

What really matters is how you address this issue. By deep conditioning with steam, using hydrating leave-ins, and alternating between protective styles and low manipulative styles, you'll be giving your hair the moisture boost it needs to thrive.