Looking for a way to reduce hair shedding? Are you suffering from post-partum or medicine-inducted shedding and looking for a holistic way to stop the shedding?
A green tea rinse for hair may be just the thing you've been looking for. Not only is it super affordable, it's incredibly easy with some incredible potential.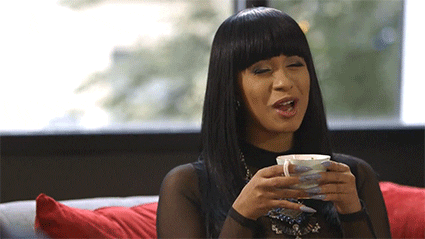 Green tea, from the plant camellia sinensis, is packed with anti-inflammatory vitamins and minerals and is considered one of the world's most powerful superfoods.
Many naturals online, including our resident OG natural Naptural85, noticed an immediate reduction in hair shedding immediately after applying the rinse.
Ready to learn how to do a green tea rinse for hair? Let's go!
What Causes Hair Loss?
Unfortunately, there are many reasons why your hair may be shedding excessively.
Generally speaking, hair loss can be caused by:
Medication
Hormonal – for example: menopause, post-partum, PCOS
Stress
Traumatic hair care practices – for example: relaxers, hot combs
A compromised scalp
Mineral deficiencies – for example: low iron, vitamin D, B12
A green tea rinse can help alleviate some of the shedding, but remember: your body is telling you something.
It's important to get to the root of the problem. Speak to your doctor to determine why your hair is shedding to truly fix the issue.
Benefits of a Green Tea Rinse For Hair
It might not be intuitive, but green tea has many benefits when applied topically.
Originally grown in China, green tea (as well as regular black tea) comes from the same plant: camellia sinensis.
In terms of health benefits, green tea is superior to black tea due to the extraction process – black tea undergoes intense processing and refining, which removes all of the vitamins and nutrients from the final extract.
Examples of these key vitamins include vitamin A, E, C, and as well as trace metals like zinc, selenium, chromium and manganese. And if you didn't know, these vitamins play a large role in healthy hair!
Not only does green tea contain these vitamins, it also contain flavonoids, a potent group of phytonutrients (or otherwise known plant chemicals).
It's these flavonoids that makes green tea anti-inflammatory (and anti-carcinogenic!), and we know that a precursor to hair loss and alopecia in general is scalp inflammation. In addition, particular flavonoids inhibit DHT, the main hormone that causes alopecia and hair loss.
Let's see what some of the scientific literature says about green tea.
What The Science Says About Green Tea Rinses for Hair
A study in California found that female rats who suffered from alopecia, when given green tea extract for 6 months, regrew about 60% of their lost volume.
Another study in Massachusetts wanted to understand the effects of diet on prostrate cancer, inspired by the low cancer rates in Asia.
The scientists fed mice soy, green tea and black tea. They found a decrease in tumor growth, which was the ultimate scientific finding, but they also noticed something else: a signifcant decrease in DHT.
Both of these studies attribute the flavonoids due to its anti-inflammation and DHT-blocking abilities to the regrowth of the hair. And although more studies need to be conducted before any final conclusions are made, it's clear that green tea plays some sort of role with hair growth.
Now, let's get into exactly how to do a green tea rinse.
How To Do A Green Tea Hair Rinse
Doing a green tea rinse for hair is exactly as the name implies: when you douse and rinse your hair with warm (not hot), steeped bagged or loose leaf green tea.
Here's how you do a green tea rinse for hair. On your next wash day:
1 Add 2 organic, decaf green tea bags into a mug

2 Boil approximately 1 cup of water and decant the hot water into the mug

3 Allow the tea bags to steep and cool for 30 minutes to an hour

4 Pour the (now warm) tea into either a spray bottle or an oil applicator bottle for easy application

5 Enter the shower and shampoo your hair as usual

6 Before conditioning, section your hair and apply the green tea onto the scalp of each section, gently massaging

7 Leave the green tea rinse on for 5-10 minutes before rinsing away with warm water

8 Condition and continue with your wash day as usual

9 Repeat every other wash day for best results
Other tips for doing a green tea rinse:
It's important to note that green tea rinses can be drying, so you must follow up with a moisturizing deep conditioner and leave-in conditioner.
Camille Rose Algae Renew Deep Conditioner
This deep conditioner contains essential plant-based oils and butters loved by all naturals: manuka honey, mango butter and aloe vera, and also includes film-forming and moisturizing ingredients such as hemp seed oil and blue-green algae. And it smells like mint chocolate chip!
Mielle Moisturizing Avocado Hair Milk
Best for TYPE 4, high porosity
A Mielle cult classic, this moisturizing hair milk is formulated with film-forming, moisturizing humectants ingredients such as aloe vera, nettle and horsetail extract. It also includes various strengthening ingredients such as rice and wheat protein. A perfect product for high porosity strands in need of some TLC.
Camille Rose Curl Love Moisture Milk
Best for TYPE 3c-4, all porosities
This product is well-loved by low porosity naturals but the film-forming humectants such aloe vera and slippery elm will form a tight seal around your strands, protecting your hair's moisture from evaporation for days. The plethora of conditioning ingredients will also make your high porosity hair feel supple and soft. A must try for high porosity naturals!
Before you apply the green tea, be sure to shampoo FIRST to remove all of the dirt and product buildup. This will allow the green tea full access to your scalp.
Do not detangle with the green tea in your hair – the lack of slip can significantly result in more shedding than usual.

Lastly, to boost up the effects of the green tea rinse, add a few drops of rosemary oil or peppermint oil into the tea while it's steeping. These essential oils are known to also reduce inflammation and block DHT!
Final Thoughts to Doing A Green Tea Rinse for Hair
Green tea rinses can be a great addition to your wash day routine. It can make your hair noticeably fuller with observably less shedding over time.