Using clay masks for natural hair, although quite popular in the natural hair community, is a relatively new concept in the modern beauty world.
Many naturals swear by clays for detoxifying, detangling and defining their coils, but, just like all things in life, there is a right and wrong way to use clay masks.
If you're not careful, excessive clay masks use can result in very dry hair. And for natural hair, dry hair is the antithesis of healthy curls and coils.
Let's get into how to use clays masks for natural hair, and which clay is best for your hair type!
What Are Clays?
The use of minerals from the earth for beautification is not a new concept.
Historians state that Cleopatra used mud and clay from the Dead Sea for cosmetic purposes, and, further back, Neanderthals mixed water with various types of muds and clays to cure wounds, alleviate infections and cleaning the skin.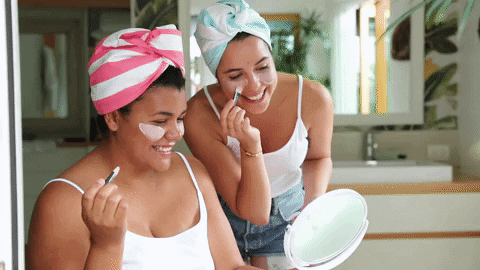 To understand how to use clay masks for hair, it's important to understand the brief science and rheology behind clays.
Clays are mineral-based, fine-grained natural soils, naturally derived from either volcanic ash or sedimentary rock, that contain a charge within its molecular matrix (either positive or negative).
Their technological properties make them ideal for cosmetic purposes, especially hair.
Firstly, they make for great surfactants as the ionic charge can attract the dirt and buildup from our hair and scalp.
Clays have another special attribute – they swell in the presence of liquid, and contract when dry.
When the clays swell, it attracts to the dirt and buildup to your hair, and holds onto it even after it dries, a process known as adsorption.
When you wash out the clay mask, you are also washing out the dirt and buildup along with it!
The most common liquids used in clay masks for natural hair are water and apple cider vinegar.
With these amazing properties, clays are therefore effective at:
Detoxifying the hair from dirt, product buildup or mineral buildup from hard water;
Removal of hard-to-reach oil, bacteria and buildup from the scalp;
Can be a source of blood-stimulating minerals to the scalp.
There are many different types of clays in the world used in cosmetic formulations, but the three most common clays used for hair are bentonite, rhassoul and kaolinite.
Bentonite
Calcium bentonite clays are the most well-known due to the popularization of the Aztec clay mask.
Derived from volcanic ash, this clay has the strongest swelling-shrinking properties, and thus is the most effective clarifier out of all the clays. This also means that it is the most drying.
This clay is also negatively charged, therefore attracting positively charged ions. Many of the product buildup in our hair are positively charged, as well as mineral buildup from hard water, so it's a great detox for under clarified hair.
However, as it's quite stripping, this clay can be too harsh for high porosity, especially first-time clay users.
An alternative to bentonite clay is rhassoul clay, which swells-shrinks less than the bentonite clay, making it less stripping.
Kaolinite
Similar to rhassoul clay, this clay does not swell and shrink as dramatically as bentonite clay, therefore is less stripping and a great option for high porosity hair.
However, unlike bentonite and rhassoul clay, kaolin clay has a positive charge, thus is highly anti-bacterial.
It can also absorb chlorine, which has a negative charge (Cl–), thus is a great clay option for swimmers who swim in chlorine pools!
Who Should Use Clay Masks?
Generally speaking, almost any natural can incorporate clay masks into their routines.
Low porosity naturals will find the detoxifying and clarifying trait of bentonite clay particularly effective, while high porosity hair will find rhassoul and kaolin clay highly conditioning with the perfect amount of clarification and detoxification.
Here are the best clay masks for natural hair.
Best Clay Masks for Natural Hair (from gentle to most intense)
How To Do Clay Masks for Hair
If using a raw clay, here are some instructions to get the most out of the treatment:
In a non-metal bowl, combine half a cup of your raw clay. Slowly decant water (or apple cider vinegar, your choice!) into the bowl until you get a yogurt-like consistency. Feel free
Always ensure you add water to that it's the consistency of a light cream/yogurt rather than a thick paste. The more water, the easier it is to apply and the more effective the clay will be to pull out all the toxins.
Let the clay stand for 5-10 minutes to stabilize the mixture – if the consistency thickens, add more water.
Apply the mixture to detangled hair in sections, working the clay into your roots and focusing on your ends. Leave on for 15 minutes.
Once in the shower, allow the water to drench your hair until your hair is unhardened. Slowly work the water into your hair to completely remove the hair, ensuring that the clay is completely out of your hair.
Follow up with a regular conditioner to soften and condition the hair, and deep condition afterwards.
Clay masks should be a once a month/twice a month affair, especially if you have high porosity hair. The stripping effects of the clay can cause deep dryness, which is the opposite of what we want.
Always deep condition afterwards with a moisturizing, protein-free treatment and leave-in conditioner to replenish and restore your moisture balance.
Final Thoughts on the Best Clay Masks for Natural Hair
Clay masks for hair and cosmetic purposes, although not a new concept, can be an effective product in detoxifying our hair.
Always remember to use the clay mask that agrees best with your porosity. The Aztec Clay Mask is highly popular in the natural hair community, but can be stripping to high porosity hair if done excessively.
Be sure to deep condition after you wash out your clay mask to restore your moisture balance and keep your coils tangle free.