The science is clear: shampooing natural hair is an absolute non-negotiable if you want to have healthy, hydrated and happy natural hair.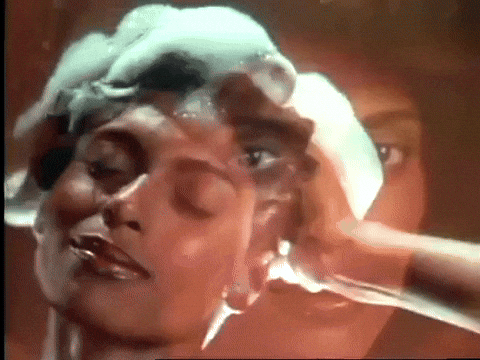 Dirty hair does not mean hair growth. This is a myth. Leaving your curls and coils unwashed for longer than 14 days can result in negative adverse issues such as follicle irritation, scalp inflammation, dermatitis and hair loss.
Yikes!
It's important to invest in a well-formulated, high-quality shampoo that will keep your hair moisturized while still giving it a good clean. Various African tribes throughout history used black soap as a clarifier and now, there exists well-formulated, high-quality shampoo will not make your hair dry.
Instead, your hair should feel soft and conditioned after every shampoo and condition, ready to accept the moisture from your leave-in products and stylers.
Let's get into the best shampoo for natural hair and the different shampoos available on today's market.
Benefits of Using Shampoo for Natural Hair
All hair types need to shampoo their hair every 7-10 days, according to professionals. Any longer than this and you are compromising the integrity and overall health of your scalp and hair.
The natural hair community often discusses the harm of using shampoo for natural hair, but there are immense benefits of using shampoo that often go unlooked.
Shampoo for healthy scalp
Your scalp is the birthplace of hair. Keeping your scalp ecosystem balanced by cleansing it from dirt, bacteria, grime and buildup is the best way to support healthy follicles.
Shampoo for natural hair growth
Dirty hair does NOT mean hair growth.
Hair is constantly growing (unless you are experiencing hair loss, which is a separate conversation).
And while shampoo itself may not "grow" your hair, having chronically dirty hair, as noted above, can lead to gradual hair loss. Shampoo will assist you on your journey to healthy hair, and healthy hair will always grow!
Shampoo for moisturized natural hair
A well-formulated, high-quality shampoo will NOT dry out your hair. But having chronically dirty hair will.
Moisture is not able to get through layers of dirt, grime and buildup. Applying moisture (via products and water) will only create more buildup, perpetuating the cycle of dryness. The longer your hair remains dirty, the drier it will be.
Properly clarifying your hair primes and preps your hair to accept and receive new moisture, acting it a fresh, clean slate.
Remember: only clean hair can accept moisture.
Types of Shampoos
Now, there are many different types of shampoo on the market, but in general, naturals should have two types in rotation, depending on your lifestyle: clarifying shampoos and moisturizing shampoos.
To choose between a clarifying vs moisturizing shampoo, here's what you should know.
Clarifying Shampoos
Clarifying shampoos contain strong detergents that will remove all dirt, grime and product buildup. These detergents are stronger than the surfactants found in moisturizing shampoos, and can be used less frequently, depending on your lifestyle.
To know if you need a clarifying shampoo, ask yourself about your hair practices. Do you use oils in your hair? Thick butters or gels such as eco-styler? Did you go a long while without shampooing your hair recently?
If any of the above are true, incorporate a clarifying shampoo in your routine every 3-4 weeks to make sure there is no buildup in your hair.
Moisturizing Shampoos
On the other hand, moisturizing shampoos contain surfactants that will still give you a good clean, but they are much gentler.
These are best suited for weekly use, and can support all lifestyles.
Co-washing
Co-washing natural hair is when you use conditioner in place of shampoo.
Conditioners contain some cleansing agents that can remove light oils on the hair, but it should never be used in place of a shampoo.
Instead, they should be used in between washes. If you work out or if you excessive sweat, you can use a co-wash mid-week before your next shampoo day.
How To Properly Shampoo Natural Hair
Contrary to popular belief, there is a technique to shampooing natural hair.
To properly shampoo, section your hair in four parts to shampoo in sections. This is incredibly key if you have tightly coiled hair or thick, dense hair.
First, wet your hair and make sure it is soaked. Apply a dime-sized amount of shampoo in the palm of your hair and lather the shampoo in your hands to activate the product.
On each section, apply the lathered shampoo to your scalp and massage into your scalp using your fingertips.
When you are done with your scalp, stretch your section downwards to elongate the hair, and bring the shampoo down the section. This technique will reduce tangles. Smooth the shampoo down your hair to define your coils. Continuously dunk your hair under the water if your hair is starting to dry.
Rinse out the shampoo with lukewarm water, and repeat this process (i.e. do a double shampoo cleanse).
Next, apply your conditioner to the section (re-wetting the section if needed). Always use ample conditioner with water, and then detangle using a detangling tool.
Final Thoughts on The Best Shampoos for Natural Hair
Shampoo is imperative for healthy natural hair. Clean hair is the baseline for healthy natural hair.
If your hair is chronically dry, you will experience negative adverse effects such as dryness and scalp irritation. Keep your scalp clean and wash your hair flourish!