Having a deep understanding of the best deep conditioners for 4c hair is imperative to keep dryness and breakage at bay.
Why? Because the tight curl pattern of 4c hair makes it incredibly susceptible to damage and breakage. This is especially true for fine-stranded 4c naturals.
FYI – the idea of 4c hair being "hard', "unmanageable" and "cannot grow" is not only scientifically baseless, but it's a rhetoric that is rooted in anti-blackness.
4c hair can be healthy, hydrated and happy, just like other hair types. And the best deep conditioners for 4c natural hair aim to do just that!
Let's get into our recommendations on the best deep conditioners for 4c natural hair.
What is 4c Hair
4c hair is the tightest curl pattern of all the curly/coily hair types.
Although the curl typing system isn't an accurate classification, 4c hair is the most recognizable as being Afrotextured, is often associated with fine hair, and is highly prone to shrinkage.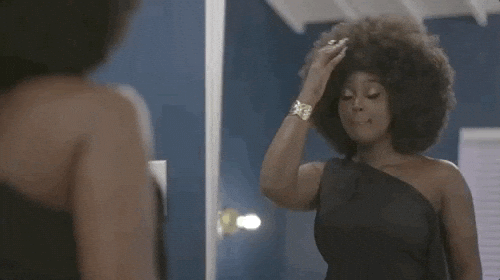 The important thing to understand is that this curl type is the most sensitive and most prone to breakage, as every bend and kink in a single hair strand is a potential area of weakness and opportunity for breakage.
Being strategic in your 4c natural hair routine, including choosing the right deep conditioners for 4c hair, will ensure you're keeping breakage at bay!
The Benefits of Deep Conditioning 4c Hair
Moisture Retention
Deep conditioning, especially with heat, has been proven to significantly increase moisture and product absorption in various hair types.
This is especially true if using protein treatments, where small-sized protein molecules are able to enter into the hair shaft and fill cuticle gaps. Filling these gaps reduces your hair's porosity, which basically means that your hair is better equipped to retain moisture.
Strengthening and Elasticity
Keeping coily hair strong and malleable is critical to keeping breakage at bay.
Natural hair is sensitive – even detangling can cause significant damage to our hair (mechanical weathering).
Using deep conditioners with strengthening ingredients (think proteins, henna, etc) will help our hair withstand damage from mechanical weathering and other forms of damage.
Reduce Breakage
Overall, by keeping your 4c hair moisturized using moisturizing deep conditioners; and keeping it strong using strengthening and protein-based treatments, 4c hair will experience less breakage and more length retention with time.
What To Look For In A Deep Conditioner for 4c Hair
In a nutshell, your deep conditioners should be moisture-rich (i.e. water is the first ingredient), should be conditioning/friction reducing (i.e. slip) and high-quality (i.e. no mineral oil/petroleum/drying alcohols).
If you are looking to use a protein treatment, the most agreeable protein treatments contain small-size proteins (think amino acids and peptides) that are lightweight in molecular size and can actually penetrate into your hair.
Large-sized protein molecules create a film around the hair, which is effective for moisture retention, but can hinder absorption. Use with caution if you have low porosity hair.
The Best Deep Conditioners for 4c Natural Hair
How To Deep Condition 4c Hair
Deep conditioning 4c hair is actually quite simple.
To properly deep condition 4c hair:
On freshly shampooed hair, section your hair and ensure each section is damp;
Apply a generous amount of deep conditioner to each section; add more water to each section for product mobilization and more slip;
Put on a plastic cap and continue with your shower, allowing the steam from your shower to deepen product penetration;
Wash out with cold water after 5-10 minutes and follow up with your favourite leave-in and gel on damp hair.
Final Thoughts on the Best Deep Conditioners for 4c Hair
Deep conditioning is more than just a hair mask. If implemented strategically, it can mean the difference between damaged hair and healthy, hydrated 4c hair.
Always look for deep conditioners that contain high-grade, plant-based ingredients that are slippery and contain no mineral oil.