The science is in: air drying is bad for your hair.
There are many reasons why air drying natural hair comes with some consequences, but the main reason is this: it leaves your hair in a prolonged state of fragility, resulting in tiny cracks in your hair strands. This is especially true during the dry, winter months!
These "microcracks" can lead to a host of issues, such as breakage, enhanced dryness and, increased porosity (thus moisture loss).
Not to mention that leaving your hair in a prolonged wet state can contribute to bacteria/fungal overgrowth. Yuck!
Instead, as naturals, we should employ the use of ambient heat (from hooded hair dryers or blow dryers + diffuser attachments, at a low temperature setting) to dry our hair once we've applied our stylers. This is the healthiest way to dry your hair.
What Happens When Your Hair Is Exposed to Water
Hair is made of keratin, a protein that also makes up our nails.
On the outside of the hair strand is our cuticle – this layer is inflexible and tough, much like our fingernails.
Inside the hair shaft, below the cuticle, is our cortex – this layer is more flexible and bendy, but is what determines the health of our hair, as it gives our hair strength and flexibility.
When it's wet, the cuticle soaks up the water into our cortex, and it swells in response. The hair is most fragile when its wet and swollen. When the air dries, it shrinks, back to its original state.
When we allow our hair to air dry, aka go from a swollen state to shrunken state slowly, we're weakening the strength of the cuticle layer.
Hair can only absorb up to 30% of its weight in water – meaning the remaining 70% is left atop the hair to evaporate. It's this process that makes the hair weak!
Wait – Isn't Heat Bad For Natural Hair?
Direct heat, aka heat that is directly applied to the hair, is bad for our coils.
Examples of direct heat include blow dryers and flat irons. These tools apply first-hand heat to our strands, weakening the cuticle layer and causing heat damage with prolonged use.
However, ambient heat, which is heat applied indirectly to our hair, will not harm our hair. Examples of ambient heat include hooded hair dryers and blow dryers with diffuser attachments.
You do not need to use heat protectant when using ambient heat.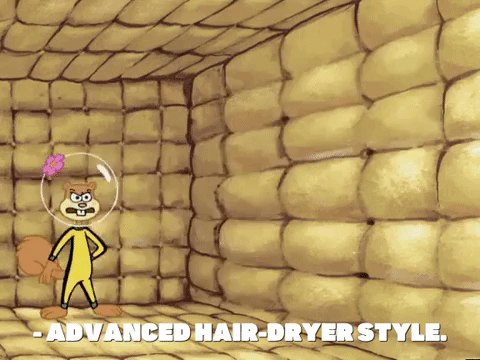 Ambient heat applies heat around your hair, drying your hair without the heat actually being applied to the hair. Big difference!
3 Cons of Air Drying Your Natural Hair
Let's get into the exact reasons why air drying is bad for your natural hair, based on science!
Air Dry Hair Con #1: Weakens your hair
Air drying natural hair causes damage to your hair, long-term
As stated above, the longer you leave your hair in this wet, swollen state, as it slowly air dries you are slowly weakening the inherent strength of the cuticle layer, causing cracking. This cracking can further occur deeper in your cortex once you've damaged your cuticle layer
Our cuticle layer helps us retain moisture, so you'll find overtime that your coils will be drier than usual, because moisture is continuously being lost via evaporation
Air Dry Hair Con #2: Increase in mildew or bacteria
It's no secret that our scalp contains a diverse community of good and healthy bacteria that control our scalp health
Leaving your hair wet, especially overnight, will cause a overgrowth of scalp bacteria and fungi
Bacteria, mildew and fungus thrive in damp and dark areas, like your scalp!
Leaving your hair to slowly air dry will throw the delicate ecosystem of your scalp.
Air Dry Hair Con #3: More tangles
Did you know that air drying your hair can lead to more tangles?
When you air dry your hair, you are giving your coils ample opportunity to interlock, causing tangles, due to shrinkage
And while shrinkage is a sign of good curl elasticity, allowing your hair to air dry encourage your curls to interlock deeper when the hair is shrinking. This is mostly true with coily, tight-textured hair!
3 Pros of Properly Drying Your Hair Using Ambient Heat
Ambient Heat Pro #1: Allows your hair to dry faster
Not only does properly drying your hair using ambient heat save you drying time on wash day, but it also ensures that your hair is not in a weakened state for too long.
This will keep cuticle damage away and increase your hair's moisture retention ability!
Ambient Heat Pro #2: Keeps hair moisturized
If applied properly, the ultimate benefit of a hooded dryer for natural hair means that your hair will feel much more moisturized until your next wash day.
Ambient Heat Pro #3: Less tangles
Air drying your hair allows for more shrinkage to creep into your style. Your style will give a truer picture to your length when set with a hooded dryer.
Furthermore, your coils will be less likely to intermingle with other coils, causing tangles.
Before You Start Drying…
Remember: your natural hair must be properly moisturized before drying. Otherwise, you'll just be drying dry hair!
Here's how to properly moisturize and style your coils before drying:
On clean, conditioned hair, section your hair as desired to start the styling process. Remember: the more sectioned your hair, the more defined your hair will be. Be sure to start on clean hair for best results.
Spray water down on each section before applying a lightweight leave-in conditioner (only water can keep your hair hydrated!). Finger detangle and follow it up with a detangling tool of choice.
Apply your stylers – a gel for your wash and go's, or a mousse for your twist and braid outs. If your hair is dry at this stage, spray more water. The more water, the more moisturized!
How To Properly Dry Natural Hair
To sum everything up – is it better to use a hair dryer or air dry? The answer: hair dryer with diffuser or a hooded dryer.
For coily hair, a hooded dryer is the best way to dry your hair. Investing in a solid hooded dryer will ensure that every coil is adequately set and dry, without having to keep your arms up while blow-drying.
Hooded dryer:
Once you've adequately styled your hair, set up your hooded dryer in your area of choice.
Sit under the hooded hair dryer for 20-30 minutes – do not cover the hair with any plastic.
The drying time will depends on how dense or long your hair is. If you have very long hair, use clips to pin the ends of your hair to your crown to dry those areas too, or dry your ends separately using a blow dryer attachment.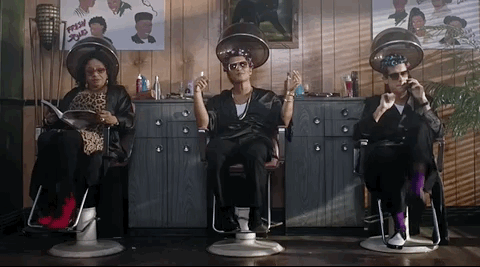 Blow dryer + diffuser attachment:
Attach your diffuser to your blow dryer.
On the lowest warm setting, hold the blow dryer about 10 cm away from your hair and turn on the diffuser.
Do not touch your curls and coils why they are diffusing. Instead, aim the diffuser at different points of your hair to dry it. Patience is key, especially for those with very dense, thick hair!
Final Thoughts: Is Air Drying Bad For Your Hair?
Prolonged air drying is bad for natural hair but the bottom line is this: do what you can.
If you're able to, investing in either a hooded dryer or blow dryer + diffuser attachment will guarantee that your curls and coils remain healthy. You'll also find that your styles will last longer after properly setting with ambient heat.